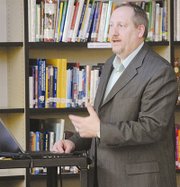 GRANDVIEW - The Grandview School Board held a public meeting yesterday (Monday) to hear a proposal on the Student Achievement Fund, or Initiative 728 funds.
Assistant Superintendent of Finance and Operations Brad Shreeve gave the board a brief overview of funds received from the initiative.
The funds, which Washington voters overwhelming voted to approved in 2000, was designed to help reduce class sizes, extend learning opportunities, provide professional development and early assistance to students, as well as improving facilities to support class sizes.
The Grandview School District received $1.4 million for the 2008-09 school year. The state no longer issues I-728 funding, but Grandview still has carry-over from the $1.4 million.
Shreeve revealed the district had $897,000 from I-728 funds when it entered the 2010-11 school year, though the bulk of the spending has been on professional development.
At the end of the school year, Shreeve expects the district to still have $400,000 in I-728 money.
The Grandview School District must now decide where it wants to spend that remaining $400,000. Shreeve provided a list of several ideas for the money, including a pre-school program, hiring reading specialists and school tutors, improving staff professional development and expanding educational facilities.