Wednesday, October 27, 2010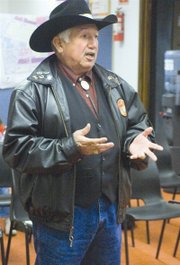 MABTON - The Mabton City Council held a public hearing last night (Tuesday) to determine the tax levy rate to be established for the 2011 calendar year.
No Mabton citizens were on hand to offer public testimony.
The amount of taxes to be assessed in 2011 against property situated within the city limits of Mabton is $127,515. This represents an increase of 1 percent, or $1,240, from the 2010 regular levy.
The Mabton City Council also held a public hearing on its 2011 preliminary budget at last night's meeting. Again, no citizens were on hand to offer any testimony.
This was probably a good thing, as a printing problem prevented the updated preliminary budget from being available. City Clerk/Treasurer Ret Stewart said the preliminary budget would be available at City Hall today (Wednesday).
The council will begin scrutinizing the preliminary budget next Tuesday, Nov. 2, at a special meeting, from 6 to 8 p.m., at the council chambers. The public is invited to attend and give comments at that time. The city plans to hold one more public hearing after next Tuesday's meeting, and then hold one more before the final budget is adopted. Council members expect to adopt the 2011 budget at its Tuesday, Nov. 23 meeting.
The preliminary budget is still being tweaked. Council is planning on raising car tab fees for city residents by $20.
Mabton Councilman Mario Martinez said the increase in car tab fees will help the city secure loans to fix its crumbling roads and streets. He said in order to receive loans for street repairs the city has to show it is preparing for the future, has money to leverage and is keeping the public informed on any improvements.
Mabton Fire Chief Luke Cussins warned the council he might need more money for his budget. He said the Yakima County commissioners have so far refused to increase a 911 tax, from 50¢ to 70¢. This, he said, will likely require the city of Mabton to pay more for 911 service. He suggested an additional $500 to help cover any increases.
Also at last night's meeting, Mabton VFW member Manuel Soto asked permission to hold a ceremony at City Hall on Nov. 11, which is Veteran's Day.
Soto said the Mabton High School choir will be on hand to sing songs and one high school students will play Taps on a bugle. The ceremony will end with a 21-gun salute. The ceremony will begin at 4 p.m.
The Mabton City Council gave Soto the permission.