Thursday, October 14, 2010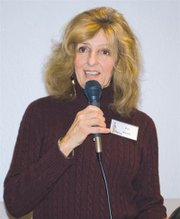 PROSSER - Lower Valley Christian Women's Connection guest speaker Pat Smith this past Tuesday detailed how she has adjusted to various changes in her life, including learning to transform from being accustomed to city life in Detroit to becoming a ranch wife.
The adjustment wasn't easy, she told those gathered at the Barn Restaurant in Prosser. In fact, it was downright miserable for her.
While living in Detroit, the city where Smith grew up, she worked as a nurse and a realtor, as well as holding down a third job. Her husband had been working for General Motors, but wanted to own a ranch.
"My priorities were mixed up and I thought no one could love me," she said, stating her childhood was filled with rejection and fear.
Wanting to give her husband his desires in hopes of improving a marriage she says wasn't going well, Smith agreed to a move that placed her family on a ranch in Idaho.
"I felt it could be an adventure," she said.
Smith found her life was to be more difficult than she could imagine. The house had numerous problems, including a bathroom with a toilet that didn't work. "We had to use an outhouse," she said.
She continued, describing a home that was once a brothel and later used to house animals. The walls were made of cement. "Can you imagine how hard it is to hang photos?"
Smith said the weather, too, surprised her because it snowed the first day her children were to go to school.
"And, my experience with horses was with those of the merry-go-round breed," she continued telling the group, explaining the neighbor women were all proficient horse riders.
Her family, after some of her real estate deals in Detroit were completed, began experiencing financial difficulties, as well.
Because of all the hardships, Smith said her husband became angrier and she began to withdraw emotionally. Her children were left to fend for themselves as she became more depressed and her marriage continued to worsen.
"I failed my kids countless times," she said.
One day, however, her husband returned from a trip to town and informed Smith they had been invited to attend a Bible study.
She was reluctant and it took several more invitations, as well as persistence on her husband's part before the couple attended their first Bible study.
"I heard something I had never heard before," Smith stated, saying the pastor leading the Bible study shared John 3:16 with those at the study.
The pastor continued, sharing Jesus' words, "I am the way, the truth and the life..."
The words were startling and Smith began to question her future. She asked questions about "good" people and whether or not they would be allowed into heaven.
"I had a problem with not being good enough because I had tried to be good all my life," she said.
Smith continued to question the validity of the Bible. The pastor was patient with her, spending hours helping her understand the truth contained in God's Word.
It was a movie, however, that led to Smith's transformation. She began to understand Christ's love for her after seeing His sacrifice at the cross depicted in the movie.
"All I had to do was believe and accept His gift to me," she told those at the monthly meeting.
"I didn't have to be afraid anymore because God loves me...He knows every crummy thing I've ever done," Smith said.
Since that realization, one of the many promises contained in the Bible she has held on to is the promise that God has new things in store for her life.
Back then, He revealed he had many new things in store for her, including a career as a writer, helping her husband operate a trout hatchery and working for the government developing maps.
"If God hadn't asked me to do the things I have done, I would never have done them," Smith said.
She continued detailing several other challenges and trials she has experienced throughout the years, including forgiving her parents for her childhood. She stated, "Through it all God was there.
"I'm not here to tell you how to get it all together, but to tell you there's hope."
Smith's marriage did eventually dissolve and she has found herself working in a place she never thought she would work. She is a nurse for a women's prison and has had to learn new skills to fulfill her role there. But, the job has provided her a new perspective, and she feels God's guidance has helped her grow to serve in that role.