Wednesday, November 17, 2010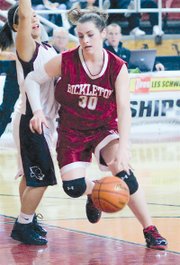 Katelynn Clinton, a senior at Bickleton High School, has been named the Washington State Wendy's Heisman Award winner.
This prestigious award is given to one girl and one boy in each state in the USA. The Wendy's Heisman Award, while not a scholarship award, is one of the highest recognitions available to a high school student.
The organization received thousands of applications from students across the nation, and a committee judged each entrant on very rigorous criteria. These students must represent the very best in athletics, academics and leadership.
Clinton has been a standout athlete in volleyball, basketball and track. She's earned All-League status in both volleyball and basketball, and has been a State participant in track and basketball competitions during her high school sports career.
As a junior, she was voted the Outstanding Female Basketball Player of the Columbia Gorge B League, and was named to State 1B Basketball Tournament Team last season.
She has maintained a grade point average of 3.95, and has been selected by her peers to be part of their student leadership team each year since seventh grade, ending her high school career as ASB President for both her junior and senior years.
In addition, Clinton is very active in her church and community, and was the Alder Creek Pioneer Picnic and Rodeo Association Queen for 2010, representing her community and the rodeo association at parades and rodeos across Eastern Washington and parts of Oregon as a goodwill ambassador for her community and rodeo.
Bickleton School District Superintendent Ric Palmer said the community is especially proud of Clinton's achievement in winning the Wendy's Heisman Award, because she is from one of the smallest high schools in the state. "Yet, her excellence in all the required categories showcases her talents, her dedication and her outstanding achievements, as well as her school's support," he said.
He said she will now be a part of the 51 other young women who are state winners moving on to compete in six regions of the United States, with 12 finalists competing for one male and one female national winner.
Clinton will graduate with high honors from Bickleton High School in June 2011, and has been accepted at Washington State University for the fall of 2011.