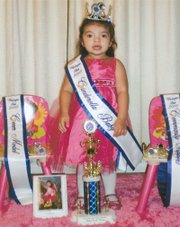 BREMERTON - Although Audrina Campos has not even started pre-school yet, she is well on her way to becoming a star.
The two-year-old Sunnyside toddler won top honors at the Washington Cinderella Scholarship Pageant this past weekend in Bremerton, becoming the new reigning Washington Cinderella Baby for 2010.
This was only the third pageant for Campos, who began her pageant career while on vacation with her family in Texas.
Her mother, Amy Rubio, decided to enter Campos in a preliminary Cinderella Baby competition in Port Orchard, where Campos won the right to compete in Bremerton.
In Bremerton, Campos won Community Support and Cover Model honors to go with the top award.
For Community Support, Rubio turned to various local businesses and organizations, such as the Sunnyside Police Department, the Miss Sunnyside Court and the Sunnyside Chamber of Commerce.
For Cover Model, judges looked at the photos provided by Campos' family for the pageant's program.
Overall, the toddler was judged on casual wear, party wear and a playtime interview where she and the other infants played together. Judges observed their play, how they made friends, if they shared and even asked the children some questions.
Rubio notes that the Cinderella Baby competition does not allow the youngsters to wear make-up, dresses cannot be long, and children cannot wear hair pieces.
In fact, judges asked to feel Campos' long hair to ensure she was not wearing any.
Next up for Campos is the National Cinderella Scholarship Pageant in Dallas this coming July.
Rubio is also thinking of entering Campos in the All-American Girl competition, which is similar to Cinderella with its rules of keeping children natural.