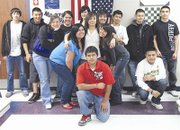 MABTON - "We didn't know much about the dangers of nitrates in well water until we researched it," Mabton High School student Victor Silva said of a study conducted by students in Steven Bennett's environmental sciences class.
The class received a $10,000 grant from the Washington State Department of Ecology to conduct a study of well water used by residents in the Mabton area, according to Bennett.
He said about half of the funding was utilized for the study, which consisted of researching the dangers of nitrates and testing wells owned by community members. The other half of the funding is for the purpose of conducting community forums, educating property owners with well water on the potential hazards of high nitrate levels.
Tony Espinoza shared his experience, stating, "Little by little we learned about the dangers of nitrates, especially the danger to young children and pregnant women. I felt personally connected to the project and gained an enthusiasm for helping my community."
Classmate Alexandra Hernandez said she feels it is important to help the community and learning that water carries with it potentially unknown hazards was an eye-opening experience for her.
"I got into it, wanting to learn more about the nitrate levels and the concerns those levels can pose," she noted.
Shanika Zavala, too, was mesmerized by all she learned. "At first I thought it would be boring to look at water. After researching what dangers are connected to high nitrate (consumption) it caught my interest."
Celina Rodriguez shared, "I think the project is a great learning opportunity. I enjoy the idea of promoting safety and awareness."
Bennett said his class explores environmental issues, such as how the salmon are affected by different factors in our waterways. That, he said, ties in with both the benefits and the drawbacks of dams. The benefits of dams include reducing the effects of global warming.
Because the focus of his class is on environmental issues and participates in the Department of Ecology's "Salmon in the Classroom," Bennett said Bob Tuck, a salmon educator, discussed with him the pilot program for exploring nitrate levels in the Lower Valley.
The project brought with it research and hands-on learning for the students.
The Department of Ecology has been looking at the issue of nitrate levels in groundwater and residential wells for several years.
"The DOE doesn't want to be looked at as a big brother institution," said Bennett. "They want to educate community members."
As part of the project, students had to design posters and pamphlets used as educational materials for the community. The pamphlets answer why nitrates can be found in drinking water.
Danielle Peralez explained that drinking water from wells can be contaminated by manure, plants and human waste from septic tanks.
She earlier this month presented to community members two separate water bottles, one of which appeared dirty and the other appeared to be clear.
"You can't see nitrates," Peralez shared, revealing the water that appeared clear contained 15 parts per million in nitrates. That, she shared is above the legal limit of 10 parts per million.
One of the dangers high nitrate consumption can pose to young children and pregnant women is blue baby syndrome.
A brownish-blue tone to the skin in babies is one symptom of excess consumption of nitrates. The indicator means the child is not receiving enough oxygen.
"Our bodies naturally rid themselves of nitrates, but young children cannot do so due to the fact that their red blood cells do not as rapidly return to normal," shared Bennett.
The posters created by the class, with the help of Nicolle Bennett, were designed for the purpose of distribution in high-traffic businesses throughout the community.
To have well water tested or to request a poster, community members and business owners can contact Bennett at 894-4951 or via email at bennetts@mabton.wednet.edu.
Those with high nitrate levels can do one of two things to reduce nitrate levels in their water. Bennett said they can either dig a deeper well or purchase a filtration system.
"This was personal for me because I have a well...my water tested at safe levels, but other people I know had unsafe levels of nitrates in their water," shared Peralez, stating she has high hopes that community members will have their water tested, if they haven't already.
photo courtesy of Steven Bennett
Mabton students in the environmental science class of Steven Bennett recently conducted a study of nitrate levels in well water. They include (front) Antonio Espinoza; (middle L-R) Danielle Peralez, Alexandra Hernandez and Yonathan Flores; (back L-R) Amando Pimentel, Santos Venegas, Shanika Zavala, Nohemi Meza, Veronica Vazquez, Celina Rodriguez, Alexis Martinez, Victor Silva, Gerry Barajas and Daniel Quintero.