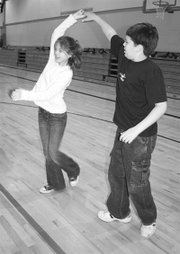 OUTLOOK - Rest assured, there are a select few fifth graders at Outlook Elementary School who, thanks to Principal Robert Bowman, will know exactly what to do when it comes time to attend a middle school dance.
Perhaps that's why this group gives up their recess every Wednesday and Friday to study swing dance under Bowman's tutelage.
"I think it's cool that when we get to have dances at the middle school, we'll know what to do," says leading man and Outlook Elementary School fifth grader Elijah Gomez.
Estovan Lua adds, "It's exciting! We don't know how to dance."
Here before too long, they most certainly will.
"It's cool that we get to interact with our own principal," interjects Nicole Mulroney.
She's hoping for a chance to teach younger kids at the school how to swing dance. And hopefully, says Emily Lones, "They can do this with Mr. Bowman, too!"
Bowman first learned swing dance in college as an elective. This is the third year he's offered to teach kids to perform during recess.
Bowman said it's doubled from the first year to the current group of budding dancers, and maybe that's because they last year were able to see their upperclassmen perform.
"I think the more we perform and the kids see it at an early age, is not as icky," the principal says.
He said the state wants schools to have a component for dance. "I thought we could hit that with this."
But that's not what keeps Bowman inspired.
"What always amazes me is the kids that show up," he says. "I often say, 'I never would've thought that kid....'.
"You wouldn't think something like this could boost a child's confidence, but it does. I've seen it. In a lot of kids