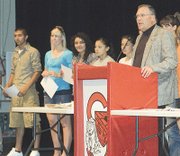 During a ceremony last night, Tuesday, at the Sunnyside High School auditorium, Grizzly scholastic athletes were honored for their contribution to spring sports.
In team academic awards, the WIAA recognized the girls varsity tennis team with a combined GPA of 3.18, followed by girls varsity track (3.11), boys varsity golf (3.10), girls JV tennis (3.09) and boys JV track (3.08).
The following Sunnyside athletes were also recognized for receiving Columbia Basin Big Nine all conference awards:
Soccer - defender Jordan Esqueda and midfielder Alfredo Gomez, honorable mention.
Golf - Renae Visser, second team.
Softball - Ruby Herrera, second team outfield; Sarasa Partida, honorable mention catcher; and Jasmin Penaloza, honorable mention outfield.
Track - Kendra Meeker, first team discus; Marisa Broersma, second team 400 and honorable mention 200; Ayla Schmick, honorable mention long jump; Kennedy Sarmiento, first team 110 and 300 hurdles, honorable mention 4x100; Elias Medrano, first team 400, second team 200 and honorable mention 4x100 and 100; Eric Amaro, second team javelin; Mario Madrigal, honorable mention 4x100; Nicholas DeLeon, honorable mention 4x100; Eduardo Salmeron, honorable mention high jump; Brian Bennett, honorable mention discus; and Andres Cantu, honorable mention discus.
Baseball - Julian Rivera, honorable mention third base.
Each spring sports team at Sunnyside High School also recognized the following individuals:
Softball
Inspirational, Savanna Martinez
Most Improved, Trish Gaethle
MVP, Savanna Martinez
Best Bat, Sarasa Partida
Golden Glove, Jazmin Penaloza
Baseball
Best hitter, Julian Rivera
MVP, Justin Reyes
Most Improved, Luis Valles
Inspirational, Jaime Sarmiento
Coaches Award, Lane Pickel
Golf
Coaches Award, Nick Navarro
MVP, Renae Visser
MVP, Nathan Espinoza
Tennis
Coaches Award, Jessie Robert and Amanda Villareal
Inspirational, Joey Zijlstra
Most Improved, Kyle Scott
Soccer
Most Improved, Reyes Cuevas
Inspirational, Luis Garcia
Coaches Award, Omar Vergara
MVP, Jordan Esqueda
Captain, Alfredo Gomez
Girls track
Inspirational, Tanya Lugo
Coaches Award, Katie Herndon
Most Improved, Kendra Meeker
Outstanding Performer, Marisa Broersma
Boys track
Inspirational, Andres Cantu
Most Improved, Juan Reynoso
Coaches Award, Kennedy Sarmiento
MVP, Elias Medrano