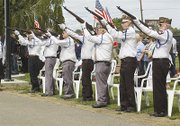 Fourth District Representative Doc Hastings was the special guest at Monday's Memorial Day service.
Held at the War Veterans Memorial at Sunnyside's Lower Valley Memorial Gardens, Hastings recognized that Memorial Day is not just another holiday, but a "Tribute to those who have fought and died for democracy and freedom, and to secure the security of the United States."
Hasting discussed the early beginnings of Memorial Day when, in 1868, flowers were laid on the graves of Union and Confederate soldiers following the Civil War.
The foundation for this day, Hastings said, began with the loss of more than 25,000 American lives during the Revolutionary War.
Since then, Hastings reported, more than 1 million Americans have lost their lives defending liberty. He listed those from the last century, giving the death toll from World War I, World War II, the Korean War, the Vietnam War, the first Gulf War and the current war on terror.
"For each and every one of these Americans who made the ultimate sacrifice, their deeds and dedication must not be forgotten."
Hastings talked about how core American values are protected with the lives of military personnel and highlighted the freedoms, such as those of religion and speech, that have been secured by their sacrifice.
He concluded with Abraham Lincoln's famous words from Gettysburg, saying that they resonate as true today as when they were when first spoken in 1863.
"From these honored dead we take increased devotion to that cause for which they gave the last full measure of devotion; that we here highly resolve that these dead shall not have died in vain; that this nation, under God, shall have a new birth of freedom; and that government of the people, by the people, for the people, shall not perish from the earth."