Tuesday, January 26, 2010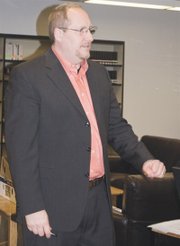 GRANDVIEW - Every light in every Grandview School District building is going to shine just a little bit more efficiently now that the district is a $124,000 energy efficiency grant recipient, dispersed by OSPI.
That's according to Brad Shreeve, who notified school board officials at last night's regularly scheduled meeting.
Shreeve said it was a competitive grant and more than 60 other school districts applied.
"We applied for it because it was an opportunity in the schools for energy efficiency," said Shreeve.
The school district must match the grant and funds for the match will come from the capital improvement fund.
According to information collected by Shreeve, it's estimated that it will take 19.4 years in electricity bills to pay the investment back to the Grandview School District.
Shreeve said lighting will be upgraded in all three elementary school gyms, at the high school and at the Compass and administration building, with the exception of the gym. Lighting in the Compass gymnasium was upgraded a few years ago when upgrades in the middle school gym were made.
Bids for the work will go out in the spring, he said.