Monday, December 13, 2010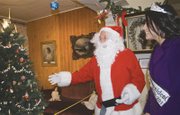 This past Saturday the Sunnyside Museum hosted its annual Christmas open house, providing visitors a glimpse into Christmas' past.
On display were many of the usual museum items, but added to the exhibits were Christmas trees adorned with historic ornaments.
The museum was decked with boughs of holly and cheer, while members of the 2010-11 Miss Sunnyside court greeted visitors at the door with Santa.
Refreshments were also served by the court members and songs of the season were performed by several local vocal and piano artists. Members of the Sunnyside Museum board of directors also spent time sharing all that represents Sunnyside's history during the event.
It was a snow-filled day, adding to the spirit of the season.