Thursday, December 9, 2010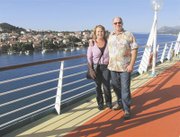 GRANDVIEW - Whether it was rubbing shoulders with international law enforcement leaders in Cyprus or a leisurely visit in Venice, Grandview Police Chief Dave Charvet and wife Kelley enjoyed a trip to remember last month.
The couple was in Europe for about three weeks last month, and one of those weeks was spent in Cyprus for a European Chapter Conference of the FBI National Academy.
While there he networked with top law enforcement leaders from European countries.
"We had training in different aspects of leadership, professionalism and management," said Charvet, a 1988 graduate of the FBI National Academy program.
The focus of the conference, he says, was on immigration.
"They have the same problems we have with our neighbor in Mexico," Charvet said of European countries. "Illegal aliens don't just come from Mexico, our problems are not different than anybody elses."
The entire trip, including the $600 tuition for the law enforcement conference, was paid out of pocket by Charvet.
"It was a two-fold mission," he said. "We always wanted to go to Europe and this was my first international chapter conference."
Following the conference, the Charvets traveled by cruise ship through Turkey to see the city of Ephesus made famous in the New Testament.
According to tradition, the Apostle John and Mary both went to Ephesus, and the Bible book of Acts describes teaching that the Apostle Paul did in Ephesus.
"It gave my wife and I a better understanding into what we read," Charvet said. "I learned more about my religious background."
The Charvets' trip also included visits to Santorini, Greece, as well as Venice, Florence and Rome in Italy.