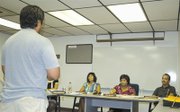 MABTON - The Mabton School Board last night, Monday, approved several new contracts for the 2010-11 school year.
Most of the contracts were related to administrative positions.
The contracts approved last night included $93,570 per year for high school principal Jay Tyus, $85,774 for elementary school principal Angie Ozuna and $80,774 for middle school administrator Denny Brown.
Administrative contracts getting the green light for 2010-11 also included director of technology Michael Roberts, $77,708; certificated teacher, special education director Scott Fisher, $74,159; business manager Gina Grow, $71,000; and maintenance/transportation director William Roettger, $52,087.
The Mabton School Board also approved supplemental contracts that ranged from $3,000 for Brown and $6,000 for Brock Ledgerwood to be the middle school and high school athletic directors, respectively.
Michael Surmeyer was also approved for two supplemental contracts totaling $17,626 related to overseeing student portfolios, job shadows and directing the district's career and technical education program.
Just in time for a new season, fall coaching contracts were approved last night, ranging from high school dance coach Julie Tyus, $3,234 for the season, to high school head volleyball coach Marty McCallum, $5,788.
Also last night, the school board accepted the resignation of elementary school para-educator Ashley Collins and fiscal/HR coordinator Linda Rosen.
Superintendent Minerva Morales said Rosen's parttime position will be combined with that of a vacant part-time payroll post to form one position at the district office.