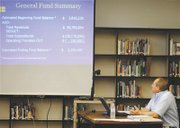 GRANDVIEW - The Grandview School District now has a budget in place for the 2010-11 year.
Grandview School District Assistant Superintendent of Finance and Operations Brad Shreeve briefed the school board last night on the proposed budget, which includes the general, ASB, capital projects, debt services and transportation funds.
The estimated starting balance for the general fund is $3.8 million. Adding in the expected $35,765,854 in total revenues, the general fund will cover everything from payroll to supplies and contracted services.
Though school board director Tim Grow was surprised to discover than an estimated 80 percent of the general budget was used for payroll and benefits alone, Shreeve assured him that it was a rather typical statistic within schools.
With the estimated expenditures, Shreeve expects the school district to end the 2010-11 school year with a fund balance of $3,255,499.
The ASB fund is expected to begin the year with $148,385 with an estimated $300,375 added in total revenues. Shreeve's report included a total of $370,865 in expenditures, which should leave the fund with an ending balance of $77,895.
The debt service fund, which makes Grandview School District's bond payments, has an estimated $819,000 to begin the year, with an added $1,630,350 in total revenue expected.
Shreeve estimated total expenditures at $1,633,075, stating that he included a $10,000 buffer in that amount to allow for any potential unforeseen circumstances.
The tentative beginning balance for the capital projects fund is $200,000 and Shreeve estimated a total revenue of $109,753. He informed the school board that the beginning fund could change if their current summer projects are completed on time.
Shreeve's revenue estimate for the capital project fund included a $100,000 transfer from the general fund that was approved at last night's school board meeting.
With an expected expenditure of $265,000, Shreeve estimated the capital projects ending balance to be $44,752.
Finally, Shreeve reported the beginning fund balance for transportation to be $77,000. With a total revenue set at $131,800 and an estimated $200,000 in expected expenditures, Shreeve approximated the transportation ending balance to be $8,800.
Shreeve also included in the total revenue a $50,000 transfer from the general fund for the purchase of a new bus during the school year.
All together, Shreeve reported he felt good about this proposed budget.
Grandview School Board director Zulma Reyes moved to approve the proposed 2010-11 school year budget and director Lydia Moreno seconded the motion. It passed unanimously.