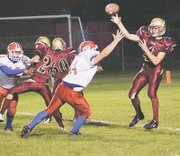 It's bad enough that the Sunnyside Christian Knights lost their quarterback last week, last night they lost their back-up signal caller in a 48-24 home league loss to Touchet.
John den Hoed started behind center for the Knights Thursday night in place of quarterback Steve Bosma, who was lost for the season last week due to a broken collarbone.
In an eight-man football line-up, one substitution means a domino effect as players in turn sub out of position. The dominoes took a further tumble when den Hoed left the game in the second quarter with an ankle sprain.
Touchet took advantage of the Knights' changing line-up to the tune of an 18-0 lead after one quarter.
Sunnyside Christian finally got on the scoreboard in the second stanza on a halfback pass from Trevor Wagenaar to Kevin DeJong.
Wagenaar, usually a back-up fullback, was in the line-up at tailback because of the injury-related shift.
In the second half the Knights finally found their rhythm and nearly matched Touchet point for point.
"The kids settled down and started playing football," said Sunnyside Christian Coach Ray Hernandez.
Running back Ryker Van Belle filled in at quarterback and found Steven Broersma for a touchdown reception. Following the two-point conversion, Sunnyside Christian pulled to within 42-16 of Touchet heading into the final quarter.
The Knights made it a 42-24 game in the fourth quarter and in the closing seconds threatened to make it a 10-point game. Poised to score at the Touchet 16-yard line, a Sunnyside Christian pass attempt was intercepted and returned the other way for a touchdown as the final seconds ticked off.
Penalties and turnovers hurt the Knights in this one, said Hernandez. Three Touchet touchdowns, he said, were the result of Sunnyside Christian miscues.
Even so, he had nothing but praise for his band of players missing not one but two quarterbacks.
"They're competitive and they'll step up and play out of position if they have to," Hernandez said.
The coach singled out Van Belle for praise, who completed 6-of-10 pass attempts for 128 yards and carried the ball 18 times for 155 yards in accounting for most of the Sunnyside Christian offense.
"He played a hard, tough game," Hernandez said of Van Belle. "He stepped up and did what he had to do."
Van Belle wasn't a one-man band, though, as den Hoed was 4-for-4 passing for 23 yards before exiting the game. Wagenaar was 1-for-2 passing for 18 yards and teammate Jackson Haak completed his only pass attempt for 14 yards.
Haak also toted the pigskin seven times for 27 yards and Wagenaar had 23 yards rushing on seven carries.
Broersma had a big game in the receiving department, nabbing four catches for 113 yards. Haak caught three passes for 27 yards and DeJong had two catches for 29 yards.
Thanks to last night's rare Thursday night contest; the Knights have an extra day to get ready to play at state powerhouse Tri-City Prep next Friday.
"The main thing is staying healthy," Hernandez said of the primary aim for the next week of practice.
Given Tri City Prep's vaunted passing attack, Hernandez added that "we'll have to work on pass coverage; they've got a quarterback who's pretty good."
The good news is that den Hoed should be available at quarterback for Sunnyside Christian (0-3, 1-4) next Friday. "The competitiveness of the kids has been increasing every week," Hernandez said. "They're coming along."