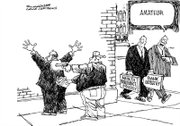 For the most part I would say I lean on the conservative side of any political debate, and I feel America was founded upon the hard work of its people.
I don't believe the government has a right to dictate to us how businesses should operate.
Although I rail against the notion of government jumping into the business of health care, the premise of providing health care insurance to all law abiding citizens sounds good. I have had times in my life when state health care was beneficial to my family. Those were times when we weren't in a position to afford health care or did not have it afforded to us. I took advantage of the fact that my children qualified because I am concerned for their overall well being and wanted to ensure they received medical attention when it was necessary.
So, I am not completely against state-run health care plans. I think the options provided in the current Washington and Oregon plans are beneficial to those who qualify and need health care insurance.
I do have a problem with the fact that the plans are not available to more of the populous. The reason is because I know of families who sit just above the poverty level, but are unable to afford health insurance available to them through their employers.
I would love for the federal government to reform the health care insurance system, providing all Americans health insurance, but I am not in favor of the plans being presented. I am not in favor of the government telling us we must opt into their plan. I am not in favor of the government running private insurance into the ground because this is a country founded on free enterprise.
I think the government should reform tort laws and place caps on malpractice insurance premiums when those laws are reformed. The lawsuits involving health care have long been known to drive up the cost of health care. Doctors have told the government that they must pay exorbitant insurance premiums to practice medicine. Insurance companies have said the prices on premiums have risen because of the lawsuits.
There is one health care bill being considered by the Senate Finance Committee I particularly take offense with. The Baucus Bill requires Americans choosing not to opt into a government health care plan to pay a penalty. If that penalty is not paid, the individual is subject to a $25,000 fine by the Internal Revenue Service or faces a year in jail. This would be considered a misdemeanor, but it penalizes Americans for expressing their freedom of choice.
The plan is less expensive than many other Democrat plans, but I don't believe Americans should be provided the choice of "opt in or pay up."
To me, this is much like socialism at its worst. I see it much as I do Germany in the late 1930s...believe in and accept my will or the government will make you regret your choice in one manner or another.
Other Dems are all for including illegal aliens in the health care reform debate and our esteemed president is telling the public a new health care bill would not be in effect until 2013...conveniently after the next presidential election.
If you aren't paying attention to the health care debate, I really think it would be wise to research what each side is saying and make your voice heard. Register to vote so that you will have a say in the 2010 elections, as well as the next presidential election.
Your health, your tax money and your legal rights are at stake.