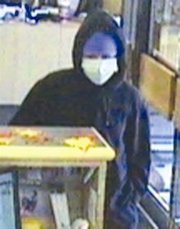 Sunnyside police are still looking for a female who robbed Banner Bank in Sunnyside this past Friday.
Police say the woman, described as Hispanic, 5'5" tall weighing between 120 and 130 lbs., entered the bank at approximately 11:30 a.m. on Friday wearing black sweat pants, a black sweat shirt, a blue bandana, black gloves and a yellow surgical mask.
The suspect presented a note to the teller demanding money, displayed a firearm and then left. She was last seen on Edison Avenue.
No one was injured in the robbery. Police have no suspects at this time.
The amount of money taken was not released and a spokesman from Banner Bank said no comment would be issued.
In other police news there have been seven reports of thefts and three burglary reports since last Thursday.
The thefts included a theft at Outlook Elementary School, a stolen vehicle, a shoplifter, a stolen identity, a stereo stolen from a vehicle, a vehicle that was broken into and a stolen cell phone.
The burglaries occurred in the 400 block of Yakima Valley Highway, the 1400 block of South Sixth Street and the 1700 block of Jersey Street.
Also since last Thursday police have dealt with three animal complaints, three assaults, seven reports of civil problems, one controlled substance problem, one report of disorderly conduct, five reports of domestic violence, four DUIs, one forgery, four reports of harassment, one intoxicated person, four juvenile problems, one report of lost property, five reports of loud music, five 9-1-1 hang up calls, one runaway juvenile, two reports of shots fired, 12 suspicious people or situations, 13 traffic stops, one report of trespassing, seven reports of vandalism and five vehicle prowls.