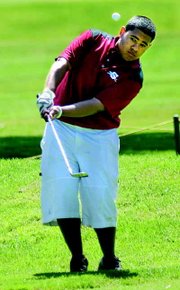 Grandview's Josh Jardine came within a single stroke of advancing to the 2A State golf tournament at yesterday's CWAC District competition, staged at Sunnyside's Black Rock Creek Golf Course.
The top 14 finishers at the District tourney Tuesday move on to State competition, this year to be held at Yakima's Apple Tree Golf Resort.
Jardine was sitting in third place when he made the clubhouse turn yesterday, after carding a 6-over-par 42 on Black Rock Creek's front nine. He slipped back to 15th place, however, with a back side 51.
Jardine's undoing came on Black Rock Creek's 14th hole, a par-5, dogleg left that has a pond that borders the left side of the fairway. The Grandview linkster absorbed an 11 on the hole.
He finished the 18-hole round with a 93. The 14th and final golfer to qualify for State, with a score of 92, was Ephrata's Cody Cummings.
Cummings' teammate, Andy Whalen, claimed medalist honors at the District competition. He fired a 6-over-par 78.
Grandview was also represented at yesterday's postseason competition by Ryan Contreras and Tim Broadie. Contreras ended up six shots behind the cut line, shooting a 98 on front and back nines of 50-48. Broadie withdrew from the tourney at the turn, after posting a double-digit score on the par-5, sixth hole.
Raquel Castaneda of Grandview also was in action yesterday, competing at the CWAC girls golf District tourney at Apple Tree Golf Resort. Castaneda's season came to a close when she posted a 163 on her scorecard (84-79). The cut line for State ended up being a 116.