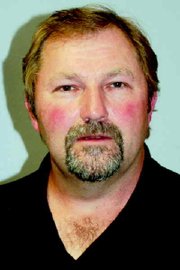 A little more than a year after he was a candidate for the Sunnyside city manager position, Jim Bridges has received the title on an interim basis.
Bridges was not selected as a finalist from the field of 29 candidates a year or so ago, but he was the choice of the city council by a 4 to 2 vote two weeks ago to replace fired City Manager Eric Swansen on an interim basis.
He sees a permanent city manager post as the next logical step in his career, whether it's in Sunnyside or elsewhere.
A candidate for the current city manager opening, Bridges continues to wear the hat of Sunnyside's public works director as he is at the helm of the city on an interim basis.
As a result, Associate Engineer Shane Fisher is handling field supervision for Sunnyside public works projects.
Bridges' ascension not only means other employees are wearing more hats, it is also not without jeopardy for the city as he will be testifying in a lawsuit against Sunnyside.
Bridges and then-assistant city clerk Jamie Alba were fired by former City Manager Bob Stockwell in September 2007 for an alleged personal relationship.
Bridges owned up to the tryst and got his job back. Alba took the city to court with a wrongful termination lawsuit and Bridges said he has been deposed to testify.
Alba and Bridges still maintain a personal relationship. Though leading the city as interim city manager, Bridges will have a role in the lawsuit against Sunnyside, and potentially benefit if Alba wins the case or receives a settlement.
Council was aware of the Alba situation, now ongoing for nearly two years, when it appointed Bridges to the interim post.
"What it boils down to is justice will prevail for Jamie or the city of Sunnyside," Bridges replied when asked how he reconciles the two conflicting interests.
To remove the appearance of a conflict of interest in pursuing a defense against the suit, Bridges said there is a move afoot to have a third party represent Sunnyside in terms of giving direction to the city's legal representative, insurer Canfield and Associates. Grandview has been asked to serve on Sunnyside's behalf in the event of a possible settlement, Bridges said, but the city is still waiting for confirmation from Grandview.
In related news, a third party investigation at Sunnyside City Hall has been suspended. The investigation was conducted at Swansen's request after a deposition in the Alba case by a female city hall employee alleged a hostile work environment.
Bridges said the investigation was stopped because of the transition at city hall in the wake of losing three city administrators. After Swansen was fired, City Attorney Mark Kunkler and Finance Director Jordan Arreola quit in protest.
There's plenty else on Bridges plate. The top priorities, he says, include addressing moratoriums. "We've got to get some resolution for these people," he says of property owners impacted by moratoriums.
The most notable one is a halt to zoning applications on lands near the Sunnyside Airport. That moratorium has been in place for nearly a year.
Bridges said council members are also working on a list of priorities in moving ahead. The priorities will be averaged, with the highest ranking ones getting his attention first.
A priority that is already in progress is forming a "blue ribbon" citizen's task force to establish fees to pay for the city's state-mandated stormwater program. The panel's task will be to divide the fees up more evenly than the previous fee schedule based on research the city commissioned.
Bridges said once empanelled, the task force will be brought up to speed on stormwater requirements. Another step in the process is coming up with a budget to base the fees on.
That part has been a little tricky, as original engineer estimates of $570,000 have proven to be more than twice the amount actually needed each year to run the program.
Bridges said a rough annual cost for the stormwater program is about $200,000 plus overhead and administration.
He emphasized that the $200,000 figure is an initial estimate, a best guess at this point.
With so many unknowns, Bridges emphasized that city hall is in good hands because of a known entity - the quality of city staff.
"We have a great staff," he says. "They know their jobs and we're going to take care of business."