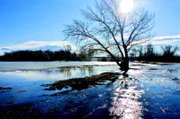 The state of Washington has taken a pounding in the past couple of days with lots of snowfall followed by warm weather and several inches of rain.
These conditions are ripe for causing flooding, landslides and avalanches, something the state's three east-west passes have all experienced.
The past couple of days have seen the passes closed due to dangerous conditions. The I-5 corridor in Lewis County has been paralyzed, where flood waters have forced its closure.
A detour route around the I-5 closure on state route 7 was closed due to a mudslide this morning.
Eastbound traffic opened on Snoqualmie Pass for the first time in two days at 9 a.m. today. Washington State Department of Transportation crews are attempting to get the westbound lanes open by noon today.
U.S. 12 over White Pass is still closed between Morton and Packwood, where the roadway has several washouts, mudslides and areas with water over the area according to a WSDOT press release.
U.S. 2 over Stevens Pass is also open today and is expected to be heavily used because it is the only east-west route fully open at this time.
The Yakima County Office of Emergency Management declared a state of emergency yesterday as a precautionary measure. Public Information Officer Tina Wilson said the declaration was given so the U.S. Corps of Engineers and other resources could be mobilized more quickly if and when they were needed.
Although the Naches and Yakima rivers are reaching flood stage the Lower Valley is relatively safe.
Terry Keenhan, a surface water manager for Yakima County, told the Daily Sun News water in the Yakima River was being contained at the Donald-Wapato bridge and the Lower Valley shouldn't expect heavy flooding.
The Parker area has received minimal flooding but Hisey Park in Granger has been breached by water from the Yakima River.
"Other than that we're looking pretty good," said Lt. Max James of the Yakima County Sheriff's Office.
A saving grace for the Lower Valley is most of the bank area along the Yakima River is fairly high, he said.
Both the Naches and Yakima rivers have crested and flooding is not expected but James offered some tips in case the situation changes.
He said most people know if they live in a flood plain or not but he encouraged people to be aware of their situation.
"If you see a bridge or a road that looks like it might be in trouble, call the sheriff's office," he said.
James said at no time should anyone drive through any standing water that is over a roadway, as the vehicle could be washed away in just a few feet of water.
He also warned people from sight-seeing along the river's banks, adding that the topsoil and embankment could be washed away.
Despite the passes being closed for a couple of days it doesn't seem to be affecting the Lower Valley that much. A spokesman at the Wal-Mart Distribution Center in Grandview said the center hasn't been affected at all in terms of trucks not being able to bring in goods.