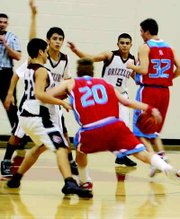 The Sunnyside boys basketball team had no answer for West Valley 6-6 senior guard Matt Borton in the first quarter and paid the price in a 55-45 loss to the Rams this past Saturday.
Borton scored 14 of his game-high 22 points in the opening stanza to pace the Rams to an 18-8 first quarter advantage.
"He presented a tough match-up for us going outside, inside," Sunnyside Coach Ron Rowe said of Borton.
Sunnyside held Borton to just eight points the rest of the way and Rowe credited Jordan Esqueda for slowing down the big man. "Jordan played him really tough," the coach said.
Sunnyside closed to within 26-20 of West Valley midway through the second quarter and had a chance to get within four, but could not capitalize on a Ram turnover.
The Grizzlies did manage to stay within single figures at the half, down 31-22.
West Valley pushed its advantage back into double figures heading into the fourth quarter, 42-31, before Sunnyside rallied one more time.
James Sanchez scored all eight of his points in the final eight minutes to lead the Grizzlies to within just a bucket, down 44-42, midway through the fourth quarter.
Sunnyside had chances to get closer down the stretch, but was again unable to convert on turnover opportunities. West Valley regained the momentum from there and hit a couple of buckets to ice the win.
"Overall I thought we played really well at times, our defense was pretty consistent throughout," said Rowe. "We were just unable to capitalize when we forced turnovers off our press."
The Grizzlies also struggled at the free throw line, canning just 3 of 13 attempts from the charity line.
"It's just one of those things, trying to get back into the flow of the games," Rowe said of coming back from a two-week break between games. "That's what we're going to have to work on."
Sunnyside (2-0, 4-3) was led by Pedro Vargas with 12 points and Israel Manzo with nine points, to go with his six assists and six rebounds. The Grizzlies' leading scorer so far this season, Alfredo De La Barrera, was held to four points due to early foul trouble.
Borton hauled down a game-high 10 rebounds to go with his 22 points for West Valley. Teammate Taylor Berndt added 11 points.
The Grizzlies are home again this Friday to take on Southridge.