Wednesday, October 29, 2008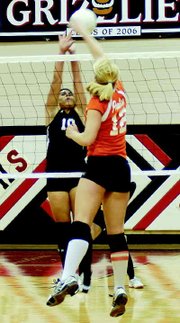 In one of its most competitive league matches of the season, the Sunnyside Lady Grizzly volleyball team kept things interesting in a 3-0 loss to visiting Davis last night, Tuesday.
In game one, Sunnyside found itself in a see-saw contest, down just 21-19 before the Pirates rallied for the last four points of the game for a 25-19 win.
Game two started slowly for the Lady Grizzlies, trailing 6-2 early on. Sunnyside stayed within striking distance from there, though, at one point down 15-9. Again, Davis closed strong, using a 10-4 run to claim the 25-13 game two win.
After a 4-4 tie early in game three, it looked like the Pirates might wrap things up easily, using a 5-0 run to lead 9-4. Sunnyside again found its second wind, however, and closed to within 12-10 on a rally capped by back-to-back service points by Kiana Ramos.
The see-saw nature of the match continued from there, with Davis mounting a rally to go up 17-12, only for Sunnyside's Molly Dolan to deliver four consecutive service points to make it a tight 17-16 contest.
In one last surge, Davis again closed well in game three, just as it had in the first two games, with an 8-2 run to take the game and match by a score of 25-18.
First-year Sunnyside Coach Mikal Aberle said her team's struggle to stay with Davis after solid runs was due in part because "we just didn't pass well."
With only three seniors on varsity, Aberle also said the 2008 squad is in a season-long learning process. That includes learning to communicate on the court as Davis at times was able to score on serves or shots that fell between players.
"We are really young and we have a lot of girls who haven't had much playing experience," the coach said.
Match statistics were unavailable as of press time.
Sunnyside (0-10, 0-11) returns to action tomorrow, Thursday, at Richland.