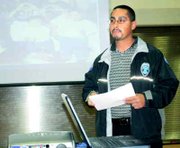 GRANDVIEW - "It's not always easy to identify a gang member by the clothes they are wearing," said Grandview Police Officer Rick Abarca as he spoke to parents at a parent information night held at Grandview's Harriet Thompson Elementary School last night.
He informed the parents that there are a number of children within the community who live in homes with relatives involved in gangs. Those children are influenced from an early age.
Because of that, Abarca said talking to children about gangs "just as you do about drugs" is important. He suggested parents begin talking to children from an early age, stating they are more difficult to communicate with as they reach pre-teen and teenage years.
He asked the parents if they knew the definition of a gang and explained, "A gang is defined by the state as a group of three or more people who interact among themselves to the exclusion of others." The definition didn't stop there, as Abarca explained gang members often state police officers are members of a gang.
A gang claims a neighborhood or territory, wears colors and engages in criminal activity or anti-social behavior on a regular basis.
"Gang prevention starts at home," said Abarca.
He said by the age of 13, it is difficult to remove a child from gang involvement. If a parent discovers the child is involved in a gang, he said the parents must be consistent in keeping the child from being involved. "It will be hard," he said, stating it is not impossible to save a child from participating in a gang once they have been involved.
Abarca told the parents they can call the police department as a resource. "I will visit the home and learn all I can..I will answer what I can and if I don't have the answer I will do my best to find the answer," he assured, stating he and his fellow officers are willing to be a resource for parents.
He said he and his fellow officers would much rather become involved in a child's life and the life of the family before the child is arrested for gang behavior or activities.
Explaining the dynamics of a gang to the parents, he said the leaders of gangs become leaders for one or two reasons. The leaders are those who have gained respect because of a reputation built on criminal activity and/or the leader possesses leadership skills lacking in other members.
Criminal activity to establish a leader's reputation may include graffiti, vehicle prowls, theft of vehicles, assaults and/or fighting, drive by shootings and even murder.
Citizen awareness will help police prevent these types of activities.
Abarca advised those in attendance at the forum to call the police any time something seems as though it is not normal. "We have made a number of arrests based on calls from concerned citizens reporting a person wearing a hood or wearing colors," he assured.
He said any activity that makes a resident nervous or suspicious is considered information that may prove valuable to police.
As parents, Abarca advised awareness around younger children also.
Another piece of advice was to not discount how gangs might use young children. He said fifth grade students in Sunnyside have been known to be used as lookouts, communicating when police are in the vicinity through use of a signal such as a whistle.
Other communication skills gangs use are in action, language, clothing, hand signs, graffiti and tattoos.
Abarca said a parent can discover graffiti in a child's room, look in the closet and find clothing of specific colors or pay attention to the child's friends.
Using photos from a MySpace account that belongs to one local gang member, Abarca illustrated attire that in one photo would not indicate the gang's affiliation and another that clearly defined a group for being a member of the gang. The youngsters in each photograph were the same young men. Other photographs illustrated the bedroom of a gang member.
"I have had parents deny the child's involvement even when faced with graffiti all over the bedroom wall," said Abarca.
As a community, he said being aware of one's surroundings is important. He asked the audience to call police with any information that might seem suspicious.
Following Abarca's presentation, Leticia Saenz and Jessica Alcaraz spoke briefly to the audience about the resources provided through the Department of Social and Health Services.
Saenz works with the family reconciliation services at the department and said there are a number of counseling services for families and children who are at-risk.
She said the parent involvement through her program, however, is demanding. Therefore, a commitment to the success of the program is required.
Alcaraz explained her role with the department is in child protective services.
She was asked if her division will intervene on behalf of children who have siblings involved in gang activity.
Alcaraz said any time a child is in danger an investigation will be conducted and if the child is afraid to go home, some intervention is necessary to ensure the child is safe.
Both Saenz and Alcaraz agreed with Abarca that the key to keeping youth from gang involvement and keeping a community safe is the diligence of concerned community members.