Friday, November 28, 2008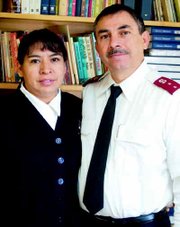 GRANDVIEW - The Salvation Army takes ringing in the holidays literally and beginning today, Fri-day, it is ringing the bells for its red kettles scattered throughout the Lower Valley.
Locations for the familiar red kettles include two at the Sunny-side Walmart, one at Bi-Mart and one each at the Grandview and Sunnyside Safeway stores.
That's according to Richard Boll, who works in the Grandview Salvation Army's food bank. He said the late start this year is in part due to a new captain recently appointed here, Francisco Flores and wife Irma.
The bells will be ringing for the kettles from 11 a.m. to 6 p.m. Wednesday through Saturday each week until Dec. 23, said Boll.
The kettle drive accounts for much of the funds the Salvation Army has for its social services. This year's drive takes on added importance due to decreased pub-lic support last year.
Roberto Matus was the previous captain at the Grandview Salvation Army, and he said kettle contributions were down by 25 percent last year.
"We had a 25, 27 percent de-crease," said Matus, who left in August to help coordinate Trans-formation Sunnyside. "It simply means for some reason or ano-ther, the community has not supported the Christmas kettle drive each year. That is basically what keeps the army going in the community."
Matus added, "We had to re-duce hours at the food bank and the hours of assistance for rental assistance."
The economic problems aren't new with the Grandview Salvation Army, as Matus said over the past 10 years it has built up a deficit of $376,000 to the state Salvation Army headquarters.
"We've been facing this deficit since 1999. It's kept growing, to the point that it's totally unmana-geable," said Matus. He explained the deficit occurs because when a local Salvation Army runs into financial problems it can appeal to general headquarters in Seattle for a loan.
Then there were times, like a homeless shelter the Salvation Army had to close in Sunnyside three years ago, where there were federal dollars but not enough of a local match to sustain a program.
It won't get any easier this holi-day season as the Salvation Army has decided that instead of a full-time captain in Grandview, Flores and his wife will split their time between the Yakima and Sunny-side chapters. That's according to Boll, who said the change is due to the number of officers available.
Flores started just this past Sun-day, with one family in attendance for the Grandview chapter's 3:30 p.m. worship ser-vice. The church portion of the Salvation Army's outreach here had been closed since September.
"The Salvation Army's mission is to help physical and spiritual needs," said Irma. "This Salvation Army had only been doing the physical."
With Salvation Army headquar-ters requiring the Flores family to divide its time between Yakima and Grandview, the need for vo-lunteers is immense.
Help is needed to assemble the food baskets and in keeping the office open.
Bell ringers for those kettles are needed. The local Salvation Army has received funding to pay for five bell ringers, but that leaves at least four ringers still needed.
As for the Salvation Army's spiritual mission in Grandview, the Flores couple say they need someone to volunteer as an Eng-lish translator during worship services as they are currently in Spanish. Musicians are needed as well.
Flores and his wife had pre-viously served the Salvation Army in East Los Angeles, Calif. and Central America. They have seen gang problems first hand, includ-ing their most recent service in the "red zone" of Guatemala in which gang warfare makes life so dan-gerous that everyday activities like delivering the mail are some-times curtailed.
Whether it's gang problems in Central America or the criminal gangs in Grandview and the Low-er Valley, Francisco says it's crucial to have the spiritual ele-ment of help. "They (gang members) need to know that Jesus came for them, too," he says. "They need to know there is a better life."
Flores said he first needs to get better acquainted with the Grand-view community.
"We need to know the city, walk around the community and meet the people," he says. "We want to work with youth and help them in their spiritual life."
The Grandview Salvation Army opens its food bank each Tuesday and Thursday from 10 a.m. to 2 p.m. The chapter is located at 248 Division Street and can be reached at 882-2584. Its office hours are 10 a.m. to 3 p.m. Tuesdays and Thursdays. Information on rental assistance is available during office hours.
Besides the food bank and ket-tle drive, the Salvation Army here plans to deliver holiday food baskets to 400 people and set up an angel tree at Mid-Valley Mall where people can designate gifts for specific individuals in need.