Tuesday, November 11, 2008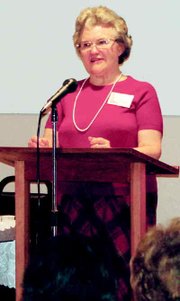 PROSSER - Agathe Newberg knew all about oppression as a child growing up in Stalin's Soviet Union and later in Hitler's Germany.
For generations she and her family of German descent had lived in what is now the Ukraine, near the German border. Under communist rule, Germans in the Soviet Union were sent to Siberia. As a result, Newberg as a young child had to keep quiet in public so as not to reveal her family's German language and ancestry.
During World War II, her village became a war front as the Germans sought to hold the ground they had gained in the U.S.S.R. "There were bombs overhead," she told the Lower Valley Christian Women's Club at a luncheon meeting yesterday, Monday.
Some of those bombs and grenades fell on the ground. Newberg and other children were instructed not to pick up anything out of the ordinary. One day she said a little girl started to pick up something despite Newberg's warnings. Just as Newberg turned to get help from an adult, she heard a loud explosion and saw pieces of the little girl's clothing falling to the ground.
Fighting back tears at times, Newberg recounted how she and her family were hustled on cattle cars out of the Ukraine to flee advancing Russian soldiers. They were taken to Germany, but weren't welcomed because they were seen by the public as Russians, not the ancestral Germans they actually were.
In the last stages of World War II, Newberg's father was called up to serve in the military in a last gasp measure that drafted all males between the ages of 12 and 70 and sent them to the front lines with just a hand grenade.
She recalled waving goodbye to her father, never to see him again.
At the age of 16, and after three years as a "displaced person," essentially a person without a country, Newberg was finally able to come to the U.S. in 1952 with her family.
Not long after moving here she ended up in an arranged marriage that resulted in two children and a divorce after 12 years trying to escape a husband who was mentally unstable and imprisoned.
That followed a period of depression for her, she said, during which she attempted suicide. She missed her father and felt in a hopeless state. It was made worse by a religious belief she grew up with that stated a person had to be perfect in order to be accepted by God.
During a hospital stay after her suicide attempt, Newberg said a young minister began to teach her that Jesus died for her and she didn't have to be perfect. She just had to accept Jesus.
Newberg said it was that realization combined with speaking to Christian women groups, like the one in the Lower Valley, that helped her to realize the many things God had done for her.
Today she smiles and says she is free from the oppression, both from external wars and from within her own soul. She also admits that even now, more than 50 years later, she is an admirer of the U.S. and proud to be a citizen here.
With a laugh, she also enjoys the tastes here. The audience joined her in laughter when she joked, "I don't just love chocolate. I worship it!"