Monday, November 10, 2008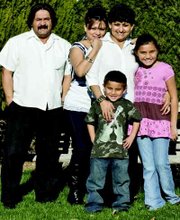 GRANDVIEW - Upon first glance, Ofelia Castilleja is like any other striking, beautiful woman, carefully made-up with healthy pink cheeks. But two and a half months ago, Castilleja was fighting for her life, battling a disease called pulmonary fibrosis.
"She couldn't walk 15 feet," says her husband, Mario Castilleja.
Mrs. Castilleja's been sick for some time. Mistakenly treated for 18 years for lupus, it wasn't until about three years ago that she learned she actually had pulmonary fibrosis.
In a nutshell, her lungs were turning rock hard.
Castilleja was put on a waiting list for a healthy set of lungs. Three years she was on the list. Then, this past June, doctors told her to forget it. Her blood contained too much bacteria and she needed to be taken off the transplant list.
She recalls being told by doctors, "You need to write it off." Inside, Mrs. Castilleja said she quietly told God, "Ok, Lord. If this is what your will is."
The Castilleja family is a family of tremendous faith. But by September, a disheartened Mrs. Castilleja, who could barely muster the energy to eat anymore, made a shocking confession to her daughter and caretaker, Monica Livingston.
Recalls Livingston, "She grabbed me by the hand and said, 'I'm done'."
Within a day or two, Mr. Castilleja woke up with the sudden urge to complete building a shed to store his tools. This he can't explain, as the project had been on hold for close to a year.
Then the call came. It was the transplant nurse in Seattle requesting the Castilleja family come to the hospital.
Mrs. Castilleja at first thought it was a cruel joke. After all, she was supposed to have been removed from the list.
"Tell your family it's time," the nurse told Mrs. Castilleja.
Livingston explained, "Lungs can only be on ice for six hours."
The family made their way to the hospital in Seattle and a perplexed Mrs. Castilleja had her blood drawn. She recalls telling the doctor that her blood is supposed to be bad, that she shouldn't be there.
"She didn't find out until five minutes before (the transplant) that her blood was fine," recalls Livingston. "That's when they told us, 'She's going in right now'."
Then the doctors approached the family and delivered a hard blow: due to her petite frame, the donor's lungs were going to have to be cut down in size, lessening the already 10 percent odds that she'd survive the transplant.
Doctors found out differently when they opened her up for surgery. "They (the new lungs) just slipped right in and fit perfectly," say the Castillejas. "Like they belong there."
Soon, Mrs. Castilleja's body was working largely on its own, completely stunning the doctors.
"(A doctor) walked in with his head down and I thought, 'Oh no!' Then he lifted his head up and told us (how good she was doing)," recalled Mr. Castilleja.
Now, nine weeks after the transplant, Mrs. Castilleja is reveling in her post-surgery life. "Jamma," as her grandkids call her, is back in action. Livingston said the grandchildren, Marlene, Lorenzo, Xavier, Candace and Marissa, often remark, "Man, Jamma doesn't stop now!"
It took Mrs. Castilleja a while to adjust to the fact that she was no longer dependent on oxygen tanks. And her newfound appetite. Recalls Livingston, "(Before surgery) she wouldn't drink water or eat. After, oh my gosh, I couldn't get her to stop eating!"
When asked what her first few steps of walking felt like after the lung transplant, Mrs. Castilleja closes her eyes and whispers, "Oh, thank you Jesus."
Today, Mrs. Castilleja considers herself not one person, but two. She's dedicated to remaining healthy to honor the life of her young donor, a 26-year-old woman that worked out regularly.
"She's going to let me (live) for my grandkids," says Mrs. Castilleja.
When it comes to organ donors, Mrs. Castilleja is firm and passionate: "Heaven doesn't need the organs. We need the organs here."
When asked how it is that she overcame all odds, like remaining on the transplant list and having the lungs fit perfectly, as well as blood healthy enough to withstand a double lung transplant, Mrs. Castilleja smiles slyly and points heavenward.