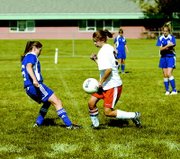 Cassie Jolliff was an all-league soccer player for Sunnyside High School. The 2006 grad even went to Wenatchee Valley Community College on a soccer scholarship.
But it was a Grizzly homecoming tradition that got her thinking beyond the game of soccer to rugby.
Jolliff said she loved playing in the homecoming girls powder puff football games, the opportunity to use her hands both in carrying the ball and in tracking down the opponent's ball carrier.
Now a sophomore at Western Washington University in Bellingham, Jolliff decided to give rugby a try as a way to stay in shape until soccer season starts.
"I was going to play soccer, but I fell in love with rugby," Jolliff says. "It's got the competitiveness of football without football pads. You can kick, throw and actually tackle people. That's probably the best part is tackling people."
While at Sunnyside, Jolliff was coached by her mother, Kathy, who noted soccer and rugby share some similarities in that both sports emphasize getting the ball quickly down the field and feature continuous play.
"She's a pretty tough kid," Kathy said of her daughter. "She's very quick and doesn't mind physical contact. She's very coachable."
Cassie Jolliff says the biggest challenge for her in switching sports is that in rugby you can only throw the ball behind you as you're moving up the field. "In soccer it's always running forward with the ball," she said.
The wildlife veterinarian major says she misses soccer, even with her new found rugby enthusiasm, "I've played it forever, since I could walk," Jolliff says of soccer.
Rugby is not a scholarship sport at Western Washington, but the WWU Flames squad she plays for is the university's official club team.
Jolliff is a newcomer to the sport, but she has quickly proved just as crucial to her team as she was back here in her Sunnyside soccer days. She plays outside center for the Flames, roughly similar to the running back position in football.
Recently she helped the club to a seventh-place showing at Nationals. Her best day on the field this past season was scoring three tries (roughly equivalent to a touchdown) against WSU.
Rugby wasn't Jolliff's initial choice for a college sport, but the fact that she is active and has found a niche beyond high school is important, says her mom.
Said Kathy, "I think it's important for kids to see that it's not that hard to pursue sports in college."