Friday, February 15, 2008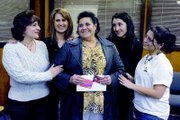 A Mabton man won $500 for his efforts to quit smoking in a contest sponsored by the Fred Hutchinson Cancer Research Center, Radio KDNA and the American Lung Association.
Olegario Sanchez's name was picked out of 11 names possible at the Fred Hutchinson Cancer Research Center in Sunnyside last night. Although he wasn't on hand to accept his prize, several other contestants were there to share food and receive other prizes.
Genoveva Ibarra, a project coordinator at Fred Hutchinson Cancer Research Center, said the contest started Dec. 3.
"At first 40 people registered for the contest but only 17 people came to the first meeting on Dec. 3," said Ibarra.
She said this contest was held seven years ago and she thought it would be a good idea to bring it back to help people to quit.
The 17 people met once a week to get encouragement and support on their quest. Ibarra said she would even visit the contestants at home to offer classes and support.
Every two weeks the contestants would be tested to see what type of carbon monoxide levels were in their bodies.
"That way they wouldn't trick us," Ibarra said.
Of the 17 people, 11 of them quit smoking completely. The other six have made huge improvements as well.
Those who smoked were excluded from last night's drawing for the $500 but everyone got a little something. The two main prizes were the $500 and $110 worth of gift cards.
The contest lasted for two months because as Ibarra pointed out, "studies show a smoker who quits for at least two months has a better chance of success."
The contest ended on Valentine's Day because Ibarra thought what better gift to give a loved one than a clean bill of health.
Robert Gonzalez, a pack a day smoker for the last 30 years, was one of those who quit.
"I was sick of feeling sick," he said of his wanting to quit. "I know it was taking a toll on my body. I've wanted to quit for a long time but I never had a support system."
Beatrice Diaz also quit, after 12 years of smoking. Both said the $500 prize was an added incentive to quit smoking.
Diaz said it wasn't too bad quitting but Gonzalez said it had been tough for him.
"It hasn't been easy at all," he said. "It's been white knuckle sometimes."
Gonzalez was able to use his support system every time he wanted to smoke.
He wasn't too concerned with not winning the big prize, noting he's already a winner just for quitting.
"It doesn't take very long to save $500 at $5 a pack," he said.
Maria Elvira Sanchez of Toppenish won the second place prize, which was a $100 gift card from Fred Meyer and a $10 gift card from Safeway.