Tuesday, December 9, 2008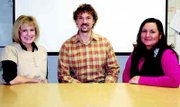 Three Sunnyside High School teachers have attained national board certification from the National Board for Professional Teaching Standards.
Literacy coach Sandra Schilperoort, English teacher Corey Murphey and special education teacher Maria Brambila successfully completed the intensive year-long professional development process, which is widely considered a benchmark for accomplished teachers. The process can take anywhere from 200 to 400 hours to complete.
According to Sunnyside School District Community Relations Coordinator Curtis Campbell, this brings the number of nationally certified teachers in the district to seven.
Added Campbell, "Last year there were only 1,817 teachers in Washington who possessed the prestigious certification."
The national board was founded in 1987 and establishes high standards for what expert teachers should know and be able to do.