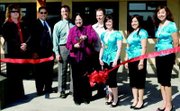 GRANDVIEW - At long last, Yakima Valley Community College's Grandview campus officially celebrated the opening of its wine tasting room with a ribbon cutting ceremony this past Friday.
The Workforce Education Center has been open since this past fall and YVCC students have been learning about the ins and outs of winemaking.
"We have been waiting a long time for this day," said YVCC President Linda Kaminski. "I think this will be a wonderful addition to the community and wine industry."
YVCC agricultural program chair Trent Ball took the opportunity to inform ribbon cutting guests that the tasting room will be open during spring barrel weekend. "You'll get to experience student wines," he said.
Those present at the ribbon cutting were actually treated to a sneak preview of the wine.
The college also houses two incubator spaces for start up wineries, Ball said, adding that one of the new wineries will also be pouring at the tasting room during spring barrel.
Student Brad Smith said that he's been pleased with the knowledge that he's learned about the wine industry.
He said the classes are packaged together in a way that he's also able to learn about marketing and the history and uniqueness of Washington's wine industry.