Friday, September 21, 2007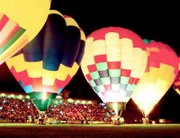 PROSSER - Lower Valley skies will soon be filled with color. Next weekend the 18th annual Great Prosser Balloon Rally will be held, Sept. 28-30.
A highlight will, of course, be the colorful balloons taking to the skies all three mornings, weather permitting.
The balloons are scheduled to launch at sunrise from the Prosser Airport, with pilots coming from around the Northwest to participate in the event.
Spectators are encouraged to arrive at about 6:15 a.m. all three days at the Prosser Airport to watch the pilots prepare the giant balloons. Some lucky spectators are even asked to assist the balloon pilots inflate, chase and recover the hot air balloons. Parking and admission are free all three mornings.
Not all the balloon fun will be in the skies, though, as Saturday evening, Sept. 29, will feature the popular night glow at Prosser High School's Art Fiker Stadium.
Hot air balloons will be anchored and illuminated from within against the dark night sky during the night glow show.
Admission is free for the night glow event and gates at the stadium will open at 5:30 p.m.
Entertainment during the night glow will include the steel drum bands Bram Brata and OK2Botay.
The three-day Prosser balloon event will also include a downtown street fair, farmers market and a street painting festival.
For more information, contact the Prosser Chamber of Commerce at 509-786-3177.