Wednesday, October 31, 2007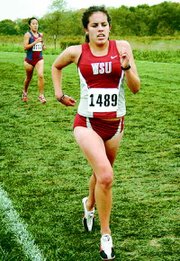 PULLMAN - The Washington State University cross country team placed fifth at the Pac-10 Championships held in Corvalis, Ore. this past Saturday. The Cougars were led by Sunnyside native Isley Gonzalez, the eighth runner to cross the finish line.
The placing helped move WSU up from No. 9 to No. 5 in the U.S. Track & Field and Cross Country Coaches Association West Region poll.
Gonzalez finished the 6K course with a time of 20:27. The top ten finish earned her a spot on the podium, a trophy and all-conference second team honors.
Gonzalez, a senior at WSU majoring in elementary education, will make a trip to Eugene Nov. 10 with the rest of the team to compete in West Regionals. She is hoping to earn a trip to Nationals.
Gonzalez said there are two ways she can go to Nationals.
"If the team earns a trip to Nationals, I go," she explained. "If the team doesn't earn a trip, I have to finish in the top four."
She'll be pitted against 200 other runners at West Regionals, but she said the seven girls that finished before her at the Pac-10 Championships are already going to Nationals with their respective teams.
"If I run the same race I did at the Pac-10 Championships I'll have a chance to go to Nationals," Gonzalez said.
Since the other seven runners are already going, her time at the Pac-10 Championships would have placed her No. 1 out of the four available spots.
This year is the farthest she's gone in her four-year college career.
"This year I've been doing all the right things and training hard," she said. "Everything is just starting to click."
Gonzalez said just being in the top 20 in the Pac-10 is a great accomplishment, with the Pac-10 being the strongest conference in cross country.
"Four teams in the Pac-10 are ranked in the top six in the nation," she added.
Gonzalez credits some of her success to her high school running coach, Robin Bryson, whom Gonzalez said continues to mentor her.
"My class schedule this semester has been hectic," Gonzalez said. "I haven't seen my coach a lot this year and I work out on my own."
Bryson knows what kind of runner Gonzalez is and has given her advice Gonzalez said she has needed.
"She gives me confidence without knowing it," Gonzalez said. "Her knowledge (of running) is so powerful to me."
If Gonzalez finishes in the top four at West Regionals, she will compete at Nationals Nov. 19 in Indiana.