Monday, November 26, 2007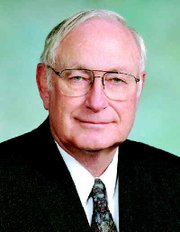 SPOKANE - The Washington Farm Bureau has given Sen. Jim Honeyford its 2007 Legislator of the Year Award in recognition of his "outstanding contributions for strengthening the family farm."
This is the second time the Sunnyside lawmaker has received the honor.
Honeyford accepted the award at the Farm Bureau's 88th annual meeting in Spokane.
"I am pleased and honored to receive this award for my work on legislation to improve right-to- farm laws and support for agricultural families," said Honeyford, a former Sunnyside City councilman and educator. "Farming represents the largest employer in Washington, and I want to make certain farmers are getting the support they need from the state."
During the 2007 legislative session, Honeyford sponsored SB 5076, which would have helped protect a farmer's right to change what he or she decides to farm without threat of a lawsuit. In another effort to assist farming communities, Honeyford also introduced Senate Bill 5077 to exempt propane fuel sold to farmers from the retail sales and use tax.
"Senator Honeyford was one of the Farm Bureau's biggest champions on the hill last session," said Patrick Conner, the Farm Bureau's director of national affairs. "He was a primary sponsor or key secondary sponsor of most of our most important legislative items."
"If our family farms are going to survive, they need the flexibility to adapt," Honeyford said. "I will continue working with my fellow legislators to fight for common-sense reforms to help guarantee that our farming communities receive the same level of fairness and support that other industries in our state receive."
Honeyford was elected to the House of Representatives in 1994 and was elected to the Senate in 1998. He is the ranking member on the Senate Water, Energy and Telecommunications Committee.
The Washington Farm Bureau is a voluntary, grassroots advocacy organization representing the social and economic interests of farm and ranch families at the local, state and national levels.
Other Farm Bureau 2007 Legislator of the Year Award winners are Rep. Cary Condotta (R-East Wenatchee) and Rep. Joel Kretz (R-Wauconda).