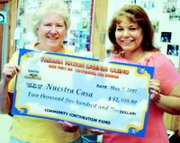 Sunnyside's Lower Valley Crisis Center and Nuestra Castra were both winners on Tuesday, as they were two of more than 90 recipients to garner funds from the Yakama Nation Legends Casino grant programs.
Nuestra Casa received $2,500 that will be used for ESL materials. Sister Mary Rita Rohde of Nuestra Casa said the money will provide materials for teachers and students in current and future English as a second language courses planned at the office on Lincoln Avenue.
Some of the materials Nuestra Casa will purchase with the funds includes English books and English/Spanish dictionaries.
The Lower Valley Crisis Center received $3,000 during last night's award announcement.
Sara Herrera is a therapist with the center and said the agency's application focused on supplies to help victims of sexual assault.
"Sexual assault is three times higher in the Native American community," Herrera said of statistics supplied in the center's grant application.
The Legends Casino grants were the first for both Nuestra Casa and the Lower Valley Crisis Center.