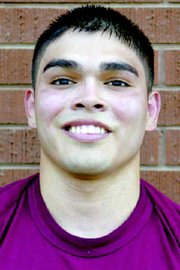 Former Sunnyside High School two-time State wrestling champion Steve Sanchez has received and accepted an offer to wrestle at Dickinson State University in North Dakota this fall.
The Dickinson wrestling program is coming off its best season ever after finishing third at the NAIA National Tournament and having seven All-Americans with two national finalists and one champion. The Blue Hawks' Justin Schlecht was also named NAIA wrestler of the year.
Sanchez said the scholarship he is being offered is worth approximately $52,000 and will cover all four years of his education.
Sanchez, a 2006 Sunnyside graduate, went to North Idaho College last fall but said he soon lost interest in wrestling. He said he's not sure why, maybe the many years of practicing the sport or just going to a new school. Whatever the reason, he felt he needed a break and since he couldn't attend the school unless he wrestled, he dropped out and came back home.
The short break is just what Sanchez needed as he says his desire is back stronger than ever.
"I'm real hungry," he said, adding it's not so much about wrestling but more about wanting to prove himself to the people who supported him.
"I just want to win," he said. "I have so much desire. I want to win nationals. I want to do something with my life."
While working in a warehouse in Zillah this year, Sanchez got in touch with his cousin Eli Zuniga, another State champion wrestler from Sunnyside. Zuniga is wrestling at Dickinson and showed the wrestling coach there some video clips of Sanchez when he was wrestling at Sunnyside. After a couple of phone calls Sanchez was offered the scholarship.
"He saw how hungry I was to get back," Sanchez said.
He knows he's getting a second chance, something that doesn't happen too often in life.
"I'm sure it's for a reason," he said of his second chance. "I didn't think there was a coach in the United States that would take a chance on me. He (Dickinson wrestling coach Thadd O'Donnell) did and that's cool."
He said he's determined to not let his new coach down.
"I want to prove to all who lost faith in me. I want to be the national champ. I want to go out on top. I'm doing this for all the people who motivated me and stood by me."
Sanchez said he's looking forward to meeting his new teammates and knows there will be some pressure on him to perform with such high caliber wrestlers as teammates.
"It will motivate me more," he predicted.
He's undecided what to study once at Dickinson but added being a counselor or even a wrestling coach has its appeal.
"I'll find something when I get there," he added.