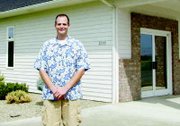 This past Sunday, July 15, United Reformed Church opened its doors for its first service.
Pastor Shane Lems, who is originally from Iowa and attended Westminster Seminary in California, was called to establish the new Sunnyside church by Kennewick's Grace United Reformed Church this past April.
He said a group of Christians in the Sunnyside area had inquired with the Kennewick church as to how a new congregation might be formed.
As a result, a new church has been formed in Sunnyside.
The church has leased a building located at 1750 Sheller Road that formerly housed the Orthodox Christian Reformed Church.
Lems stated that the Reformed Church dates back to the 16th century, when the Catholic Church split. "The reformists felt scripture was not being followed in its entirety, and the Catholics wanted to follow their faith as strictly Catholic," stated Lems.
The movement is historically named the Protestant Reformation.
Reformed churches are related by a similar Calvinist system dating to Martin Luther's establishment of churches.
Services for United Reformed Church are scheduled for 10 a.m. and 6 p.m. each Sunday.
To reach Lems at the church, call 837-3363.