Friday, February 16, 2007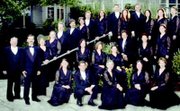 LEAVENWORTH - Central Washington's Bavarian village will host the second annual Leavenworth Choral Festival on April 13-14.
The Friday concert will feature three choral groups and a massed choir singing Vivaldi's Gloria with orchestral accompaniment.
Saturday's concert will feature five premier Northwest choruses in individual performances and together in a massed choir of more than 250 voices.
Dr. Fredrick Lokken, current conductor of the renowned Bellevue Chamber Chorus, will serve as guest conductor for the two-day musical event.
Friday's concert will include performances by the Gonzaga University Choir, the Langley Community Chamber Choir and the Confluence Vocal Octet.
Saturday performances will be given by Bellevue Chamber Chorus, Wenatchee Apollo Club, the Whatcom Chorale of Bellingham, the Columbia Chorale of Wenatchee and, adding an international flavor to the festival, the Langley Community Chorus of Langley, British Columbia.
Both concerts begin at 7:30 p.m. at the Leavenworth Festhalle on Front Street. Ticket costs are $14 per adult and $12 per senior citizen or student. A two-concert package is available for $20; for seniors and students, cost is $18. Tickets are available at the Leavenworth Chamber of Commerce and, if available, at the door.
For more information, call the Leavenworth Chamber of Commerce at 509-548-5807.