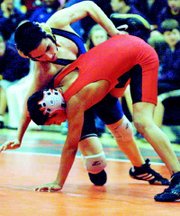 ZILLAH - Finishing in third place behind Goldendale and Granger, the Mabton Vikings advanced 12 wrestlers to Regionals from last weekend's District tournament.
Three Mabton wrestlers placed first and earned number one seeds at districts.
Andy Torres (130 lbs.) finished 2-0 on the day for the Vikings. He beat Junior Cabrera of Naches Valley, pinning him 1:04. In the finals he pinned Derrick Brickman of Cle Elum in 3:15.
At 215 lbs., Mabton's Robert Marquez went 3-0 with three quick pins.
The first pin was against White Swan's Jose Panduro in 18 seconds. Marquez then pinned Sidney Miller of Zillah in 48 seconds. Marquez's longest match of the night came against Vance Schafer of Goldendale. It took Marquez 1:19 to pin him.
"He's a dominating force," Mabton Coach John Kilian said.
Heavyweight Eli Perez (285 lbs.) was the third champion for Mabton. He went 2-0 on the day by beating Ryan Gifford of Naches Valley, pinning him in 1:27. He beat Marshall Allenbaugh of Cle Elum in final 3-2.
Finishing in second place for the Vikings were Angelo Salinas (160 lbs.) and Damien Marquez (189 lbs.).
Salinas went 1-1 on the day, beating Kane Koerner of Zillah by pinning him in 5:26. In the finals Salinas lost to Humberto Morales of Granger 9-0.
"Angelo did great," Kilian said. "He had a great day."
Marquez went 2-1 for the Vikings. He beat Rafael Guzman of Zillah 4-3 and then in the semi-finals beat Kent Wilcox of Naches Valley 6-3.
This set up the final against Highland's Ethan Bogle, with Bogle pinning Marquez in 2:16.
Grabbing the number three seed for regionals were Mabton's Eric Meza (112 lbs.) and Andy Rivera (125 lbs.).
Meza went 3-1 on the day and beat Nick Sauceda of Goldendale 6-5 in triple overtime to take third place.
Rivera, also went 3-1 on the day. He beat Derek Campbell of Naches Valley 7-1 in the consolation final.
The Vikings had four wrestlers place fourth.
Carlos Mendez (103 lbs.) went 2-2 on the day. He lost to Joe Saucedo of Granger 9-2 in the consolation final.
Luis Aviles (119 lbs.) also went 2-2 in Zillah. He lost to Carlos DeLeon of Granger 13-10.
"Luis had beaten Carlos in the first match," Kilian said.
Tony Vargas (135 lbs.) lost to Gary Erickson in the consolation final 10-5 to finish in fourth place and Vicente Tovar (145 lbs.) lost to Mark Shanefelt of Cle Elum 13-4 to claim fourth.
One Mabton wrestler, Adrian Magana, still has one match to wrestle today to determine where he will be seeded. His opponent will be Darren Stelter of Goldendale who had already wrestled five times Saturday and was barred from wrestling anymore that day. The two wrestlers will face today for the third and fourth spots at regionals.
"It went well," Kilian said of the district tournament. "Getting 12 through is good. A couple of guys stepped up and placed higher. We had a couple of guys not place where they were seeded, but that's tournament life."
Mabton will take its 12 wrestlers to Royal City Friday, Feb. 10, for the 1A regional tournament.
.