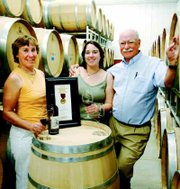 GRANDVIEW - The Sunnyside Community Hospital Foundation's 'Evening in the Park' dinner and auction will be held Saturday, Aug. 25, at 6 p.m., at Country Park in Grandview.
The Saturday event will feature wine tasting, dinner, nine auction packages, including a gourmet winemaker's dinner with wines from DuBrul Vineyard near Sunnyside, and the music of Bobby Medina and the Red Hot Band.
DuBrul Vineyard, owned by Hugh and Kathy Shiels, and their daughter Kerry, was recently selected as the Washington state vineyard of the year by Seattle Magazine.
Tickets cost $125 per person and can be purchased at the Foundation office located at 817 Franklin Avenue in Sunnyside, or by calling 837-1337 and purchasing them by credit card. The tickets can then be picked up at will-call at the park. Deadline to purchase tickets is Friday, Aug. 24, at 5 p.m.
All proceeds from the annual dinner and a golf tournament to be held earlier in the day on Saturday will benefit the remodeling of the hospital's emergency department.