Wednesday, August 15, 2007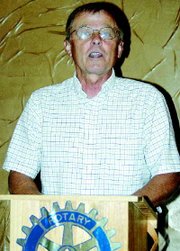 In light of Apex Cellars move from Sunnyside to Prosser, Randy Tucker of Tucker Cellars told Sunnyside's Daybreak Rotary Club members that his winery is continuing to be successful.
Tucker, Wednesday morning's guest speaker, presented a brief background of his winery by explaining that his grandfather moved to the Lower Valley in 1933, shortly after prohibition.
He said his grandfather was approached by Bill Bridgman, founder of Bridgman's Upland Winery. Tucker's grandfather began growing wine grapes for Bridgman as other wineries were closing.
The next generation of Lower Valley Tuckers began with Dean Tucker, who began farming sugar beets. As the sugar beet market slowed, the Tucker family began diversifying their crops and included wine grapes on the farm in the 1970s.
In 1979, the Tucker family opened a fruit stand on Yakima Valley Highway and expanded it in 1981 to include a winery.
Tucker said from '81 to '84 the winery employed three different winemakers.
In the meantime, he was attending college at UC Davis to become a winemaker.
Tucker said the family discovered the importance of consistency in the wine being made because the consumers noticed the differences between the three winemakers before him.
He began making Tucker Cellars' wines in 1984 and said the biggest seller is the Muscat Canelli.
Dean Tucker passed away in 1999 and Randy and his wife Debbie purchased the winery.
"We began making changes, including the label," he explained.
The Tuckers eventually closed the fruit stand to accommodate the growing winery and gift shop that features gourmet foods.
The largest motivation for the Tuckers in continuing the family business, said Tucker, "We want to make a premium wine at an affordable price."
He said the success of the winery doesn't solely rely upon the Tucker label, but includes a secondary market in producing bulk wine for other wineries. Tucker said the need for bulk wines creates a balance in the business.
Another contributing factor to the family-owned winery's success is tourism. Tucker said approximately 70 percent of the tourists who visit Tucker Cellars are from the Seattle area, and "We are a destination point." He anticipates tourism will increase in the Lower Valley and said he feels there is still room for more wineries because of the tourism growth.
When one Rotarian asked how the communities of the Lower Valley can better accommodate the growing tourist population, Tucker stated that he believed more restaurants and hotels are needed in the area.
Tucker said the tourism season is largest between late June and October, citing, "Tourists really like to be here for the crush."