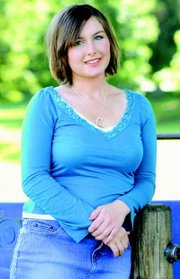 Ashleigh Emery wants a chance to give back to her community through service as Miss Sunnyside.
"(Sunnyside) gives me a great environment to live in and great activities to enjoy," Emery explained. "I'm a fifth generation Sunnysider. They've done a lot for my family."
And that's not the only reason the Sunnyside High School student is running.
"I want to be Miss Sunnyside for the experience and to meet people," she said.
Emery has a passion for her walk of faith, which is evident in all that she does. That faith extends to her community service project, should she be selected Miss Sunnyside. If chosen, Emery wants to help the non-profit, non-denominational Christian organization Young Life.
"I'm going to help them plan out their activities for their youth meetings," she said. "This will be good because we'll get youth involved with other students and they'll understand there are people there if they need help."
Young Life, which Emery participates in as well, works with many kids that normally are not attending any church.
"This would be a lot better for (youths) to get involved in...they don't force it (religion) upon you. It's basically getting together with and getting to know a bunch of other people."
Emery has been a member of the Sunnyside United Methodist Church all of her life and while she was baptized at birth, she was just recently confirmed, which earned her a brand new Bible, of which she's very proud. Her goal now, she says, is to read every passage in the Bible.
Though she loves playing her violin, Emery has decided to sing during the talent portion of the Miss Sunnyside Pageant.
"I thought about the violin, but I love singing," she explained. "I'll be singing 'Jesus Take the Wheel' by Carrie Underwood."
Her background in singing is extensive. She's taken voice lessons, has been in choirs and is a member of her church's Praise Team, which is like a choir. She's also been involved in high school musicals.
Following high school, Emery said she'll likely pursue an education in either music or English.
When it comes to English, Emery said, "I love writing. I write poetry, I write stories. It's just something I enjoy. I actually have tons of journals in my room filled with tons of stories, songs and poems that I've written."
If she studies music, she said it'll be because she loves singing and playing the violin. She also knows how to play the piano.
"It's a great way to express yourself and it's the same with writing."
Emery, the daughter of Michelle and Richard Perry, said the best thing about living in Sunnyside is "the people you meet and the different cultures that are all here, as well as all the activities they provide for you to participate in."
Her sponsors include Harold's Repair, Bob's Auto Clinic, Hairworks, Daily Sun News, Beiber Brothers, Theresa Kollmar Photography and numerous family members.