Thursday, September 14, 2006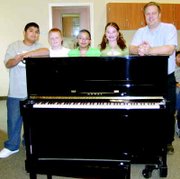 The Sunnyside School District has benefited from the lend/sell program provided by Kawai America Corp.
Every year, Kawai lends pianos to Washington State University and at the end of the year, the pianos are sold at a discounted price.
Music teacher at Sierra Vista Middle School, Scott Waywell, said the school district was notified about the sale by a WSU alumnus. The school district ended up purchasing three upright pianos from Washington State University, one of which is a digital piano.
The digital piano is being used for the orchestra program at Sierra Vista Middle School. It is a digital piano and is USB compatible and can be hooked up to a computer.
"The accompanist does not have to be present to play, they can create a file and play it back later," said Waywell.
One of the pianos is being used at the high school for rehearsal, according to Waywell. That particular piano was used in one of the music professor's studios at Washington State University.
The students do not use the pianos themselves, but the pianos will help the students to hear proper tones for choir and instruments. "It is important to maintain the quality of our instruments," explained Waywell.
Bought in March, shipped from Pullman and placed in storage since April, Waywell said that the pianos were in need of tuning. Now tuned, they produce beautiful music.