Tuesday, November 28, 2006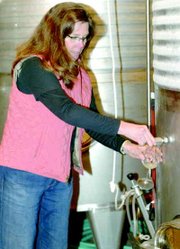 For the third year, Yakima Valley Community College will offer a winery management class at its Grandview and Yakima campuses.
Trent Ball, agriculture department head and a viticulture and enology instructor at YVCC, said the class will be taught again this year by Judi Smasne.
Smasne will instruct her students on winery structure, bonding issues, legal organization structures, break-even points, strategic planning and staffing needs.
"The course is set up to help make a business plan," Ball said.
The business plan Smasne helped Tom and Susan Garrison set up is still being used today.
"Tom and I took the class and we used a lot of what we learned to organize a business plan, which was very valuable in getting started," Susan Garrison, one of four owners of Steppe Cellars, said.
The Garrisons took the winery management class at YVCC in 2005. Susan is a teacher in the Sunnyside School District and her husband Tom has been a farmer since 1979. He grew corn for silage and alfalfa hay but he also grew wine grapes.
Tom Garrison said the WSU extension campus in the Tri-Cities is always encouraging farmers to add value to their process. He had sold grapes for years and the people he sold them to added value to the grapes by making them into wine.
He decided to add value to his crops and that's where the idea of a winery started to form.
The Garrisons own Steppe Cellars with Terry and Anne Harrison. It was Terry Harrison who was making homemade wine. He recruited Mr. Garrison to help him with his venture, and a short time later Steppe Cellars opened in April 2006.
Mr. Garrison said the class he and his wife took at YVCC was very useful.
"She exposed us to a lot of different aspects to the industry," he said.
He said Smasne shared things a person would need if they were thinking about opening a winery.
"Having the business plan and knowing where we were going by setting our goals helped us a lot," Sue Garrison said. "It was our biggest benefit."
The Garrisons said they were instructed in how to start a winery and how to manage a tasting room. People from the wine industry were also brought in to speak and people who either owned or operated a winery or vineyard also spoke to the students.
Tom Garrison said that though they had business experience with farming they didn't know anything about marketing or a winery.
Now, they have four wines with one of them already sold out. Two wines are in the barrel from the 2005 crush and this year they've already crushed four white wines.
They want to stay small.
"We don't inspire to become a big operation," Sue Garrison said.
She said it would change the whole operation if they got bigger.
"It was a good class," Sue said of the YVCC winery management class.
She said she would recommend it to other people.
People interested in the winery management class can call Trent Ball at 882-7007.