Tuesday, November 28, 2006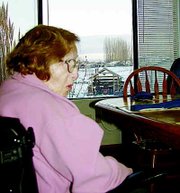 Where does one begin when contemplating placement of an elderly loved one into a long term care facility?
The task of choosing a nursing home, assisted living facility or adult family home can be daunting, as is the task of determining how care will be paid for.
Firstly, it's important to gather a list of available facilities in the area. A list is available at www.aasa.dshs.wa.gov or by calling Regional Ombudsman Stacy Kellogg.
Once a list of available facilities has been obtained, Kellogg says, "The first thing we tell people to do is go visit (the facility). There's nothing like being there, seeing with your own eyes, hearing with your own ears, and smelling with your own nose."
She said to pay special attention to initial reactions when entering a facility. And, she says, "Don't judge the book by its cover. Many older facilities provide great care."
Kellogg said that ombudsmen can't recommend individual facilities, but can share specific complaints fielded by her office regarding individual facilities. This too, she says, is important.
Also important is a family's willingness to inspect the latest state survey of a facility.
Kellogg explained that each facility is subject to an annual inspection, and during that inspection, if problems are found, the facility receives citations. "This tells you what certain issues have been in the past, and it gives you something specific to look for when visiting the facility," she said. "Past issues guide you to look more closely."
It's mandated by law that facilities make surveys readily available to families. Most facilities leave most recent surveys posted in a visible location in the lobby.
Kellogg said this is another area where her office is helpful. For example, if a facility is cited for medication issues, a family member can call her office and ask if there have been any complaints regarding medications since the survey.
"This helps people make decisions with their eyes wide open," she said.
Next, how does one determine what type of facility?
Says Kellogg, "Nursing homes provide 24-hour skilled nursing, which is pretty much impossible to find in an assisted living facility or adult family home. In those facilities, usually there's a nurse on duty during the day and maybe an on-call nurse at night.
"Assisted living facilities or adult family homes may not be able to accept someone who needs help with diabetic management or someone who needs two people (to help transfer them)."
Kellogg said that it's important to understand what is called "assisted daily living tasks," like how much help the loved one needs with bathing, eating, walking and medication management. If 24-hour skilled nursing care isn't necessary, Kellogg said, "then an assisted living facility or adult family home could be very appropriate and they often (make the resident) feel better, it's more like home."
Explains Kellogg, "In an assisted living facility, residents are more independent and have more privacy because they have their own apartments. An adult family home is literally a house, usually with two to six residents."
With regard to payment options, some facilities are strictly private pay. Some allow a certain number of beds to be paid for by Medicare or Medicaid.
According to Annie Vasquez, Program Manager for Home and Community Services, DSHS, different nursing homes have different rates and once a facility is chosen, it's up to the family to find out what the rates are.
Vasquez said that most nursing homes and assisted living facilities have private rates, as well as state-pay rates.
According to information provided by Kellogg, Medicare pays for post-hospital rehabilitation and hospice care services for short periods of time. Medicaid pays for nursing home care for longer periods of time for those who are financially eligible.
Lower Yakima Valley senior citizens age 60 and older who'd like help exploring options for paying for long-term care can call Senior Information and Assistance at 1-888-549-2582.