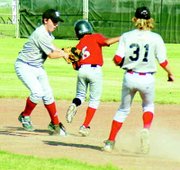 So close.
In their season finale at home yesterday, the Sun Valley 13-year-old Babe Ruth baseball team came within six outs of its first win of the season before losing 17-13 to Richland.
The Sunnyside club led 5-3 after five innings.
Sun Valley, which often during the season saw the game end after five because of the 10-run rule, suddenly found themselves in the rare situation of not only being in the game after five innings, but actually leading.
"The kids were pretty excited, especially to be ahead of a team that hasn't lost all year" said Sun Valley Coach Jaime Garcia. "They felt like they could win."
But nerves apparently got the better of Sunnyside squad, as the team committed four consecutive errors in the top of the sixth inning to help Richland to a 10-run rally. Only five of the runs give up that inning by starting pitcher Josh Romero were earned.
"When the other team started making a push we started thinking about the lead getting away," Garcia said.
Down 13-5, Sun Valley rallied for five runs in its half of the sixth, keyed by a two-RBI base hit by Andrew Daley.
Richland responded with four more runs in the top of the seventh to pull out to a 17-10 lead.
Back came Sun Valley with four runs of its own in the bottom of the inning, led by Rigo Valdez and Alan Loera's run-scoring base hits.
That pulled the Sunnyside team to within 17-14, which proved to be the final score.
But it didn't have to be, as the contest ended with a runner thrown out at the plate on the tail end of a double play.
"We could have had the bases loaded with one out, but we ran ourselves out of the inning," Garcia observed.
For the game, Kevin Alvarez was 2-for-2 at the plate with two runs scored and two stolen bases. Romero was 2-for-4 with two runs and two stolen bases and Rigo Valdez was 1-for-2 with three runs scored. Andres Garcia was 2-for-4 for the day.
Despite the loss, the 13-year-olds were able to close the season in exciting fashion against an undefeated club.
That's a moral victory that Sun Valley (0-14) and the Sunnyside Babe Ruth program can build on.
"Even though we lost it's going to make the kids want to come back and do it again next year," said Garcia.