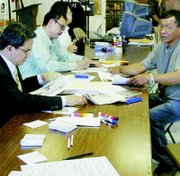 At the special invitation of Rey Pascua of Sunnyside, the Philippine Republic sent Vice Consul Anthony Mandap to Wapato yesterday to arrange passports and even dual citizenship for Filipinos.
"There are eight million Filipinos living overseas. We owe it to the expatriate Filipinos to allow them to have a choice in our country's leadership," Mandap said yesterday during his visit to the hall built in Wapato in 1952 by the Filipino Community of the Yakima Valley.
The dual citizenship Mandap was offering to the Filipino community in Washington state yesterday would allow Filipinos living in other countries to vote in Philippine Republic elections.
"These are people who have relatives, property in the Philippines. These people make a great contribution to Philippine economy. They have a lot at stake," said Mandap.
Oscar Luis of Wapato was one who stepped forward to raise his right hand to take the oath of allegiance to the Philippine Republic. After what appeared to be an effortless sifting through paperwork, Mandap accepted him as a Philippine citizen with voting privileges.
Although it has been more than 20 years since a Philippine consular visit to the Yakima Valley, only a handful of Filipinos turned out for the opportunity to update and legalize documents, receive the passports that are required to be an absentee voter or become citizens.
Father's Day celebrations with families and wedding receptions drew their attention away from the Wapato hall, noted Pascua, who is president of the Filipino Community of the Yakima Valley. In his remarks to Mandap at a welcoming ceremony, Pascua recalled that 800 attended a reception on an anniversary of the building in which yesterday's event was held.
At least three people took advantage of the opportunity Mandap was extending, becoming Philippine citizens.
"It's something the U.S. government tolerates. They may not encourage it, but they tolerate it because it happens. Fifty-two other countries allow U.S. dual citizenship," said Mandap.
"In this age of global communication, it is not unusual for people to be citizens of two, three, even four countries," said Mandap.
Yakima County Commissioner Jesse Palacios, Wapato Mayor Jesse Farias and Oscar Cerda, a representative from the office of Washington Governor Christine Gregoire, attended to welcome the delegation.
Also on hand this past Sunday was Rene de los Santos, director of the Philippine tourist department, who invited everyone there to consider a trip to enjoy any one of the 7,107 islands that make up the Philippine Republic.
He provided information about three tourist attractions: Calauit Island, which is a 3,700-hectare game preserve and wildlife sanctuary; an underground river that flows beneath the St. Paul Mountain for eight kilometers before it opens up into a clear lagoon flowing into the South China Sea; and the Tabon Caves, the oldest known habitation site in Southeast Asia, where a skull that dates back to 22,000 years ago was unearthed.
Tourism throughout the islands and viable trade were messages the Philippine Republic representatives carried to Wapato yesterday.
Washington Governor Christine Gregoire acknowledged both in a written greeting she sent to the delegation to be read at yesterday's ceremony by Cerda.
In a portion of the message the governor wrote: "In 2005, the Philippines was our state's largest export market with agricultural and food products being the top two export commodities. I am committed to ensuring the continuing success of our trade partnership and look forward to new opportunities both in trade and tourism."