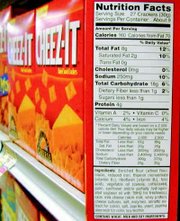 You'll never look at a package of food the same way, thanks to requirements now in effect on the nutrition panel found on food packaging.
The federal Food and Drug Administration (FDA) mandated the changes effective Jan. 1, 2006.
All food labels are now required to clearly state if the products contain any ingredients with protein from the eight major allergenic foods.
Food manufacturers are required to identify in plain English the presence of ingredients that contain protein derived from milk, eggs, fish, crustacean shellfish, tree nuts, peanuts, wheat or soybeans.
The label must list the allergen ingredients or say "contains" followed by the name of the source of the food allergen after or next to the list of ingredients.
"The eight major food allergens account for 90 percent of all documented food allergic reactions, and some reactions may be severe or life-threatening," said Robert E. Brackett, PhD, Director of FDA's Center for Food Safety and Applied Nutrition. "Consumers will benefit from improved food labels for products that contain food allergens."
The FDA estimates that 2 percent of adults and about 5 percent of infants and young children in the United States suffer from food allergies.
Approximately 30,000 consumers require emergency room treatment and 150 Americans die each year because of allergic reactions to food, according to FDA statistics.
"It's been pretty quiet," said Don Pitt, Manager of Grandview Market Place. "We haven't seen a lot of impact, people buy what they want to buy."
Sunnyside Safeway Manager Ryan Helton said the major impacts will likely be felt at the warehouse level for distribution of foods with the new labels.
Helton said that deli goods made at the Sunnyside store must have new labels printed in keeping with the FDA requirements.
"If there's a computer problem and we're not able to print labels, then we won't have sandwiches that day," he said of complying with the new label rules.
"We just got in a shipment of new stuff," said Rosie Cortez of the Sunnyside Food Pavilion. "Everything is just about normal."
The new FDA label rules also require food packagers to clearly list the amount of trans fat in a product.
The FDA has been working on increasing the amount of information required on nutrition labels since at least 1993.
At that time the FDA required that saturated fat and dietary cholesterol be listed on the food label.
By adding trans fat on the Nutrition Facts panel, the FDA says consumers now know for the first time how much of all three-saturated fat, trans fat and cholesterol-are in the foods they choose.
The revised label, notes the FDA, will be of particular interest to people concerned about high blood cholesterol and heart disease.
So what is trans fat, and how can you limit the amount of this fat in your diet?
Unlike other fats, the majority of trans fat is formed when liquid oils are made into solid fats like shortening and hard margarine.
Essentially, trans fat is made when hydrogen is added to vegetable oil. Its primary use is to increase the shelf life and maintain the flavor of packaged foods.
A small amount of trans fat is also found naturally, primarily in some animal-based foods.
Research by the FDA shows that trans fat, like saturated fat and dietary cholesterol, raises the LDL (or "bad") cholesterol that increases the risk of heart disease.
On average, according to the FDA, Americans consume four to five times as much saturated fat as trans fat in their diet.
Although saturated fat is the main culprit in raising "bad" cholesterol, trans fat and dietary cholesterol also contribute significantly.
Trans fat can often be found in processed foods, such as crackers, candies, cookies, snack foods, fried foods and baked goods.
Not only will consumers have more label reading to do, they may still find products that do not reflect the changes now in effect. The new label law does not require food manufacturers or retailers to re-label or remove products from grocery shelves that do not reflect the additional allergen labeling as long as the products were labeled before the effective date.
As a result, the FDA cautions consumers there will be a transition period of unknown length, during which it is likely that some packaged foods on store shelves will not have the revised allergen labeling.
An informal, local grocery survey in the Lower Valley found that pretty much all the national food brands are complying with the new label law.
The main inconsistency found, however, was with individual store brands.
Store brand peanut butter and chicken, for example, reflected the updated information, while some cookies, fruit pies and pudding mixes lacked trans fat information.
"The trans fat information does not have to be on the label if the product entered interstate commerce before Jan. 1," explained Tina Massingill, Manager of Public Affairs for Safeway.
Food companies have the option of seeking up to a 12-month extension in implementing the labels, depending on the distribution of their product and other extenuating circumstances or hardships.
Massingill said Safeway has sought an extension in complying with the new FDA label regulations.
"Since there are a lot of goods still out there shipped before Jan. 1, there will be some existing stock without the new label information," she said.
"Our understanding is that the extension is automatic since the FDA has received so many extension requests and was having a hard time enforcing the law immediately."
.