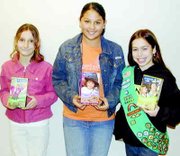 Caramel deLites, Peanut Butter Patties, Thin Mints.
You know them, you love them and it's almost time to order them, as local Girl Scout troops will start selling girl scout cookies today (Monday).
"I've gotten to know a lot of people (through selling cookies)," said Victoria Garcia, a member of Junior Troop #393 in the Sunnyside area, which includes girl scouts in fourth through sixth grades.
Troop leader Darla Van Corbach said each girl will sell, on average, about 300 boxes of cookies.
Some proceeds from the sale of each box will go to the local troop, and girls receive cookie dollars for each box they sell. Those, in turn, can be used to pay for items such as camp or scout uniforms.
According to the Girl Scout Mid-Columbia Council, cookie sales help girls learn goal setting, teamwork, relating to others, organizational skills, as well as money and time management.
"You have to have respect for the people you're selling cookies to," said junior troop member Tara Van Corbach.
Another lesson learned in cookie sales is "being polite," according to troop member Maxine Schademan.
All three went into scouting for different reasons, Van Corbach because her older sister, Heather, had so much fun and Schademan because she wanted to go to science fair and camp.
But all said it is fun to sell cookies. "It gives me something to do and a chance to meet new people," said Garcia.
While many of the classic favorites, such as the Peanut Butter Patties noted earlier, will be among the eight cookie selections available, the Girl Scouts have made some changes in this year's cookie program.
New this year are Cartwheels, which have kind of an oatmeal flavor, and Thanks-A-Lot, shortbread cookies dipped in chocolate.
Given the trend towards foods without trans fat, four of this year's varieties have zero trans fat: Thin Mints, Thanks-A-Lot, Peanut Butter Patties and Caramel deLites.
In addition, this year the girls will not be collecting money when the cookies are ordered.
Instead, scouts will take cookie orders from today until March 17. Cookie payments will be received at the time the girls actually deliver the cookies, which should be around mid-April.