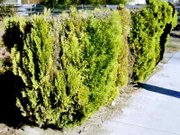 The recent days of milder temperatures and sunshine may have gardeners thinking thoughts of spring. But, according to Jim McLain, WSU master gardener, it is still too early to do more than think about those flower beds.
"The garden soil and lawns are still really wet," said McLain, noting that January brought more than an inch of moisture to the Valley.
"The more you stay off them at this time, the better, because it will just compact the soil, and that's not good for the lawn, the vegetable and even flower beds," he said.
"There are some of those annual weeds coming up, but it's best to wait to hoe them until you can crumble a fistful of soil. If you pick up a fistful and get a mud ball, it's too soon," McLain said.
If spring bulbs, such as crocus and tulips, are beginning to poke out of the ground, it isn't too soon to begin removing and gently raking away some of the mulch that gardeners may have spread over them last fall. "But only if you don't have to walk on the flower bed to do it," McLain warned.
"It's been a strange kind of year. The grass is still sorta green at my house," said McLain. "When the forsythia-that first yellow flower in the spring-blooms, that's a sign the soil has warmed up enough to start crab grass seed germinating. That's usually in March, but I'm not betting that forsythia won't be blooming by the latter part of February."
By the time you see crab grass in your lawn, it's too late to do much about it, according to McLain, who advises gardeners to get the jump on it when the forsythia blooms.
"Crab grass is an annual; it dies every year, but it makes a jillion seeds, which germinate in the spring," he said.
What to do about something you can't see?
"Go to the garden center and ask for a good crab grass killer," said McLain. "They'll probably try to sell you a weed and feed, but the lawn is really not ready to be fertilized then. So ask for a crab grass killer by itself, because it's just a waste of time to put fertilizer on a lawn that early. But the crab grass killer alone will keep the seeds from germinating.
"The first couple of weeks of May are the best time to fertilize a lawn," said McLain.
He said he fertilizes his lawn four times a year.
"I like to think in terms of holidays, so you might fertilize on Mother's Day or Memorial Day, then again around the 4th of July, on Labor Day and then in the fall. The most important of all is in the fall," he said.
"The later in the fall you fertilize, the better, before the irrigation shuts down. If you can, as late in November as possible, which might sound strange because there's frost then, but the grass is trying to store up energy for spring and the root system is taking hold," McLain explained.
When dandelions rear their golden heads, McLain advises using an asparagus-cutting knife "to get down pretty deep to get the long tap root because, if you cut it too close to the top, you won't get just one more dandelion, but might get two."
Violets, which are prevalent in yards in Sunnyside, should be blooming before much longer, although some are looking pretty downtrodden right now.
"Violets and pansies are pretty hardy. Even though some look bad now, they should come out of it alright. They'll put out new leaves and perk up," McLain predicted.
He advised waiting until mid-March to prune roses.
"Hybrid tea roses are favorites in the valley. They should be pruned to no more than 12 inches above ground. Some really good gardeners prune them back to six inches, but we (master gardeners) like to keep it about 12 inches," said McLain.
He suggests looking for a leaf bud and then pruning just above that bud. "And select a bud that points outward or the rosebush will grow inward and you don't want that. You want to keep the center opened up because the main problem with roses is mildew, which is a fungi that spreads through the air. If you get good circulation of air, you don't get so much humidity in the bush and that cuts down on mildew."
McLain also suggested foregoing a chemical spray for aphids and try to drive them from rosebushes with plain water, using a strong spray from a hose. "But do that early on a sunny morning so the bushes have a chance to dry."
Ladybugs, he said, are the best bet for controlling aphids, but he doesn't advise buying them from companies who put the bugs in hibernation and then ship them.
"Ladybugs like to migrate, and they might just fly away when you put them out in your garden," he said, laughing.
Those who insist on using an aphid spray should use it early in the day before the honey bees come out, to avoid killing the useful bees.
McClain has some advice for the care of hedges, too.
"People tend to trim hedges narrow at the bottom and wider at the top when it should really be the reverse," he said. "And you don't want a squared off hedge. Hedges should be tapered so the bottom is wider than the top."
Anyone who has walked a Sunnyside street has probably seen hedges that hang over the sidewalk, far from the roots. Cutting those older hedges back will likely leave bald spots that old growth will never fill up, McLain said. "You can't wait until the hedge is old to trim it."
So, with the ground still soggy underfoot, are frustrated gardeners doomed to wait until dryer weather before getting to work.
"No," said McLain. "Now would be a good time to take that lawn mower to a small engine repair shop for a tune-up or just for its health check. Sometimes a mower needs a new air filter or an oil change. It's best to do that in the fall, but, hey, I haven't done that yet myself."