Thursday, December 28, 2006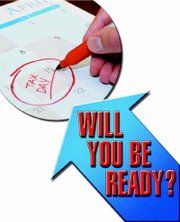 It's upon us again. The 2006 tax season will begin Jan. 1 and people will have to gather up all their receipts and decide whether to file for themselves or get someone else to do it.
What should people be doing to prepare?
According to Sunnyside Certified Public Account (CPA) and Certified Financial Planner (CFA) Ivan White, there isn't too much the average person can do at this time.
"The average person just has a W-2 and they will have to wait for that information to be sent to them," he said. "There's not much they can do at this point in time. What they owe will be what they owe."
The W-2 form is a list of a person's wages and how much they have paid in taxes. Some people will also get a 1098 form, which states how much mortgage interest they have paid, and a 1099 form, which will show interest and dividends earned throughout the year.
Employers do not have to provide employees with W-2s until the end of January.
White said people should be worried about preparing for next year. Contributions to a person's 401K plan or to IRAs should be considered if the person received a raise recently or during the year.
One thing White said people should be aware of in Washington state is the extension of the sales tax deduction.
He said this deduction will not be on this year's tax forms because the government just passed the extension this month. People will be able to deduct the amount of sales tax they paid in 2006. White said if people haven't saved their receipts they can go to the Internal Revenue Service's website and there will be a chart figuring the amount a person can deduct compared with their yearly income.
He suggests people with businesses use a CPA but people just receiving a W-2 should use some type of tax software program. White said there are things people can miss if they try to do their taxes themselves.
Nathan Bridges, a CPA at Bell and Bridges CPAs in Sunnyside, recommends people shop locally when using an accounting service.
Firms like H&R Block and Jackson Hewitt typically charge more than local firms, he said. He also said the money spent at these tax firms doesn't stay in the valley, either.
Bridges said the fee at such national chains usually works out to be 10 percent of the person's refund, a figure he believes is too high.
"Do not pay to get your refund quicker," he advises.
Some companies will offer customers instant refunds on the day they come in to do their taxes.
Bridges said these companies loan the people their refunds and then the fee they charge for this service works out to where the customer pays approximately 300 percent interest for this loan.
"Most, if not all, CPAs will electronically file your tax return," Bridges explained. "If the person has their refund directly deposited into their account their refund will be there in approximately nine days."
People get sucked into the gimmick of getting their refund that very day but Bridges said if they can wait nine days they will save money. He added lower income people are being preyed upon by these bigger companies.
Bridges said one change for this year is charitable deductions. The rules are tighter this year for these deductions.
"You will need to have your receipts," he said.
He said donating cash at church will not be deductible but if the donation is by check, it will be because of the record. In the past people have deducted donations of clothes to Goodwill but this year they won't be able to.
He also said the IRS will be focusing more on compliance this year and will be looking closer at people's tax returns.
"It's time to be a little more conservative and mind your Ps and Qs," he said.
If people are planning on using a CPA this year he said they will need to make sure all their travel and business logs are up-to-date. People should also be going through their checkbooks to pick out any deductions they might have to give to their tax preparer.
He said it's best to put all tax documents in one spot and let the accountant figure it out. They should also let the accountant know of any changes, such as new births, marital status changes and any kids enrolled in college.
He also said it is important to report all income earned, legal or not. He used online gambling as an example. The IRS has a three-year statute of limitations on auditing tax returns but if they can prove the gross income was understated by 25 percent or more, the statute goes up to six years and if fraud is involved, there is no statute of limitations.